Try a Sunnytent for Your Above-Ground Pool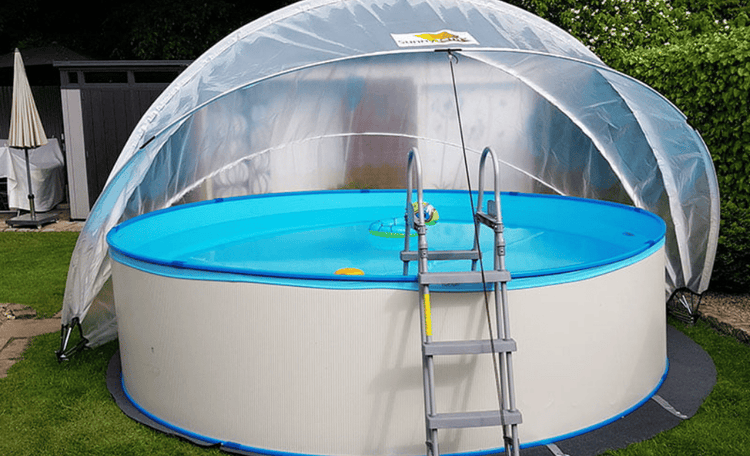 An above-ground pool creates a fun atmosphere and brings the family together. However, above-ground pool owners face a challenge — finding a proper cover. Most pool covers for above-ground pools are hard to assemble.The SunnyTent, however, is easy to install, and does more than just keep leaves and other debris out of your pool.
What is A SunnyTent? 
The SunnyTent is a dome-shaped pool cover designed to keep your water warm and extend your swimming season.
It's made of a multi-layer Polyethelene material, which helps insulate your Intex above-ground pool. Although it's not intended for sun protection, this pool cover will keep UV rays out. You can thus safely enjoy pool time while under the SunnyTent. 
This round pool cover also helps keep your pool clean and prevents evaporation — we'll get more into the benefits later.
Does the SunnyTent Fit Intex Above Ground Pools? 
Unlike other pool covers, the SunnyTent was designed to fit above-ground pools. Here's a quick guide to help you choose the right SunnyTent for your swimming pool:
SunnyTent Round L: Fits Intex pools 10-13ft in size;
SunnyTent Round XL and Round L+: Fits Intex pools 13-16ft in size;
SunnyTent Oval L: Fits Intex pool 17-20ft in size*.
* The SunnyTent Oval L will be a tight fit for 20ft Intex pools
Additional Tips for Getting the Right Fit
Ensure sufficient free space around the SunnyTent. There must be at least 10 inches of free space around the outside of the tent.;
Take into account protruding parts like skimmers and pumps. If additional features are placed higher than the top of the pool, you might need a larger SunnyTent.
If you need help choosing the right size for your pool, check out their SunnyTent size guide.
3 Reasons Why You Need a SunnyTent for Your Above-Ground Pool
A SunnyTent is an investment, but it yields interesting benefits — here are a few of them:
Reduces Energy and Repair Costs
As a pool owner, you probably understand the hassle of keeping your pool at the perfect temperature. Indeed, you've probably spent thousands of dollars a year trying to keep your pool's water warm. 
According to data from Pool Research, pool heating costs can range between $2,400 to $4,800 a year. 
Of course, you can avoid sky-high energy and repair costs with a pool cover. 
Keeping your pool covered when it's not in use reduces heat loss. The SunnyTent insulates your pool and reduces your heating costs by up to 70 %! 💵
Saves Water
Keeping your above-ground pool covered not only keeps your water warm, but it prevents evaporation. 
Pools typically see ¼ to ½ inch water loss per day — this is roughly two to four inches per week. However, wind and high temperatures cause your pool water to evaporate faster.
However, with a pool cover, the evaporation rate will be far lower. So, you won't have to refill your pool as much, which saves water. According to data from the U.S. Department of Energy, a pool cover could reduce the amount of make-up water needed by 30 to 50 %.
Decreases Pool Maintenance
Keeping your pool water clean and pristine can be a challenge. Leaves, twigs, and other debris can easily find their way into your pool. Constantly cleaning out your pool is also timing-consuming. 
However, a pool cover like the SunnyTent helps prevent foreign objects from getting into your pool. And since you won't have to clean your pool as much, you won't use as many chemicals — which is good news for those with sensitive skin, asthma, or allergies. 
Final thoughs
The SunnyTent is an awesome alternative to traditional above-ground pool covers. It helps keep your pool's water clean and warm, and it could even save on energy costs. The SunnyTent is just one way you can make pool maintenance easier. Check out our collection of pool cleaning and upkeep tools.
iopool store
Shop the essentials