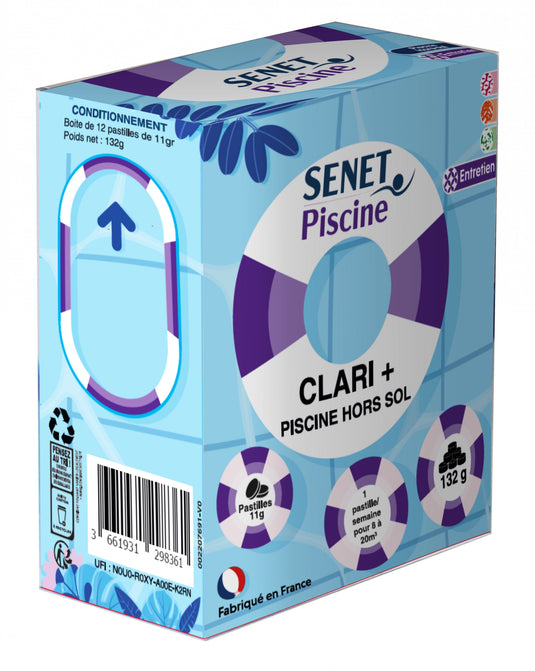 Ultra-concentrated flocculant tablets.

Why use clarification tablets
The clarification tabs Clari+ (also known as flocculant tabs) improve the filtration of above-ground swimming pools, ensuring long-lasting flocculation and crystal-clear water in your swimming pool.
How it works
The tabs optimize the filtration fineness of sand filters, cartridge filters up to 5
microns: microparticles suspended in the water gather by electrostatic attraction and form filterable precipitates.

Clari+ is used in pools with green or turbid water and is compatible with all pool water treatments, with or without chlorine, and all types of pools.
Clari+ acts quickly, is odorless, and does not generate any discomfort for the bather.
It replaces all liquid, powder, or sock flocculants.

There are 12x11g tabs in this product (net weight : 132g).

Main advantages
Increases the fineness of filtration;
Reduces filtration time by 50%;
Does not clog the filter.
Usage advice and dosage
Compatible with sand, bag, cartridge, and diatom filters.

Recommended for above-ground pools from 8 to 20 m3


Permanent use: After filtration of the suspended precipitates, the water becomes clear and crystalline. The filtration time is reduced (up to 50%) as well as the consumption of treatment products.
Frequency: 1 tablet / week in the skimmer basket.
Occasional use: After wintering, heavy rains, important frequentation of the pool or in the case of of a 'turned' water. Number of tablets 3 tablets in the skimmer basket in association with the usual treatment.

🇫🇷 Made in France