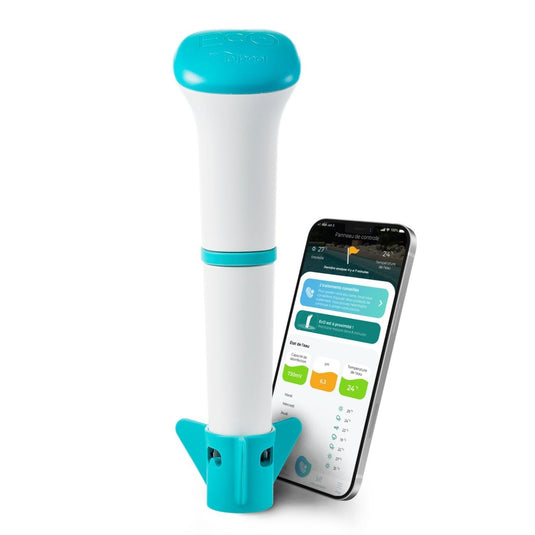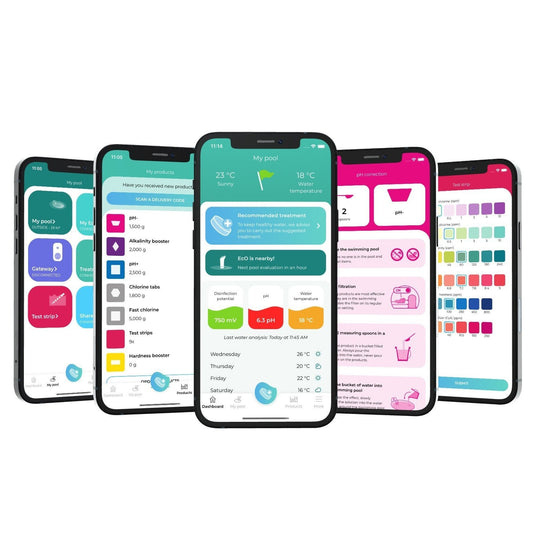 Make A Great Deal 

A repacked EcO has been repaired and tested. It comes with the same 2-year warranty than a brand new water analyser!
This is thus an ecological and cost-effective option. 
Get Your Pool's Water Analyses with EcO
Pool maintenance can be tedious. This is why our team decided to bring EcO to market. EcO is a smart, connected analyser that suits eather pools and hot-tubs.
Just Let It Float

You just need to put EcO in the water after having followed the step-by-step guide. Using the iopool app, you will then be able to get in real-time readings: pH level, ORP or disinfection capacity, and water temperature.
Why ORP? Oxidation-reduction potential (ORP) or redox determines the general water quality of a swimming pool. It measures the overall level of sanitation. 
Primary Benefits

Discreet;
User-friendly;
Improved precision;
Comes with the free iopool app;
2-year warranty. 
This bundle includes:
One repacked EcO analyser;
3kg Chemicals included*;

3 test strips;
One dosing spoon; 
Free iopool app access.
*Chemicals included are subject to replacement by equivalent products or other products depending on inventory and season.
Our Iopool App

The iopool app gives you maintenance recommendations based on the data collected by the EcO monitor. No more guessing games! The app tells you when and how much of a product you should use to keep up with your pool chemistry. 

EcO+ Iopool App =  balanced, safe, clear water 24/7
You can free download our app on Apple Store (IOS) or Play Store (Android). 
Compatibility Grid
Treatment Type
Spa/Hot-Tub
Swimming pool
Chlorine
✓
✓
Bromine
✓
✓
Active
oxygen
✓
✓
Salt
✗
✗


There Is More! 
Connected homes and devices are on the rise! Manage your pool remotely with the Bluetooth / Wi-Fi Gateway.
Commonly Asked Questions

What about test strips?
Test strips are still useful to measure the level of stabilizer, water alkalinity and water hardness. The app will suggest you to perform test strips at the set-up stage and whenever it is needed. 
What if I am not satisfied?
If you were not fully satisfied, you can use the 30-day money-back guarantee.
Can I use the monitor with non-iopool branded pool chemicals?
Sure. However, for the best experience, we recommend using our iopool pool maintenance chemicals. Why? Because the recommendation engine is designed around our products.
What is the lifespan of EcO?
EcO has a lifespan of 2 years, after which you can order and replace the monitor: replacement module. Buying this device extends the warranty for two more years.
What is the warranty period of EcO?
The EcO probe is guaranteed for 2 years from the date of purchase. The rewired/repacked EcO is thus an attractive choice!
Do I need to pay for any subscription?
There is no subscription. 

Can I access my data all around the world?
This is possible by purchasing an iopool Bluetooth / Wi-Fi Gateway. By default, EcO uses Bluetooth Low Energy (BLE) technology to send data to your smartphone, so you must be near the pool (approx. 9 m).
What does EcO measure ?
The analysed parameters of the EcO probe are:
Water temperature;
Disinfection capacity (Redox capacity, ORP);
pH (hydrogen potential).
Have additional questions?
Refer to the dedicated section of our FAQ or contact us via in-app support or on the website.


Ne fonctionne pas après 15 jours...
Bonjour,
Je vous invite à contacter notre équipe à l'adresse hello@iopool.com.
Cordialement, l'équipe iopool
Enfin sereine
Depuis 2 années, l'équilibre de ma piscine était difficile à stabiliser.
Depuis l'utilisation de ma sonde iopool, l'eau est parfaite et moi tellement plus sereine
Bon matériel
Livraison rapide et matériel conforme aux attentes. Très pratique
Défectueuse après 10 jours
Écart de 2 points dans le pH, il me disait eau trop acide avec un pH de 5,1 mais en fait, après un test bandelette confirmant un pH trop haut (car oui, j'ai suivi l'application qui me demandait de remonter le pH), je me retrouve aujourd'hui avec un pH à 9,1, et une consommation de pH- phénoménale. ( car il baisse mais remonte)
contact avec le support, test avec de l'eau minérale à 7,7 la sonde plafonnait à 5,6 en pH.
Même pas sûr que l'orp fonctionne lui aussi.
Du coup le support me fait parvenir un test pour calibrer la sonde, qui va durer combien de temps?!
Moi qui voulais une sonde pour me faciliter la gestion du bassin, j'en reviens à faire des tests à la bandelette chaque jours.
Point positif: le support a été réactif mais pas sûr de prolonger avec ce produit dans 2 ans, avec le remplacement de la sonde.
Satisfait
Très bon produit, permet de maintenir un chimie efficace de l'eau (devenu cristalline depuis l'utilisation) alors qu'avant l'équilibre était précaire. Je recommande vivement
Avis sur sonde et application Iopool
Très satisfait de la sonde ÉCO d'Iopool. Résultats rapides sur l'eau de piscine, conseils très judicieux pour l'équilibrage de l'eau et la durée de filtration avec l'application.
Suivi du stock produits restants est bien venu.