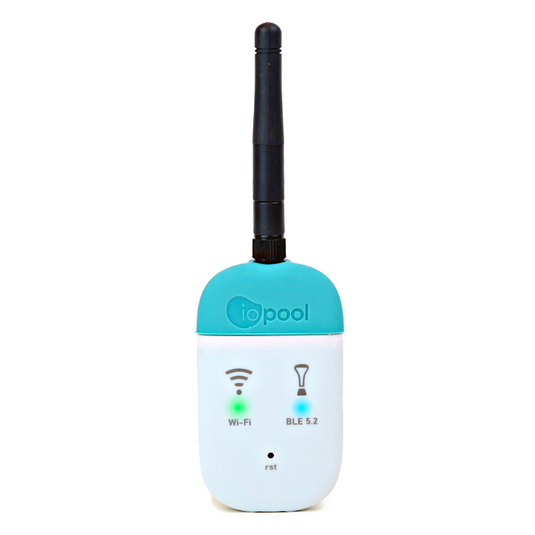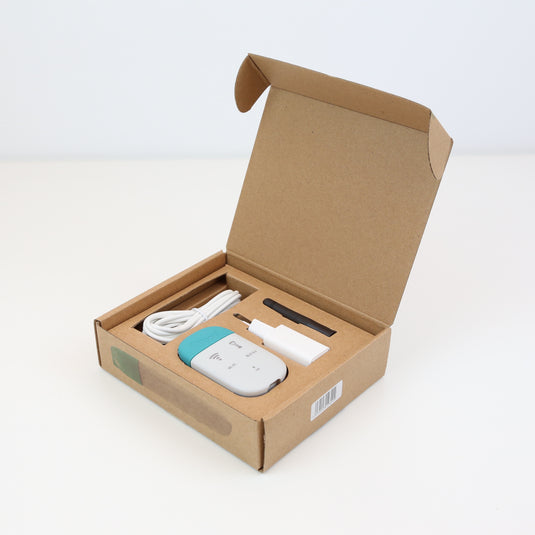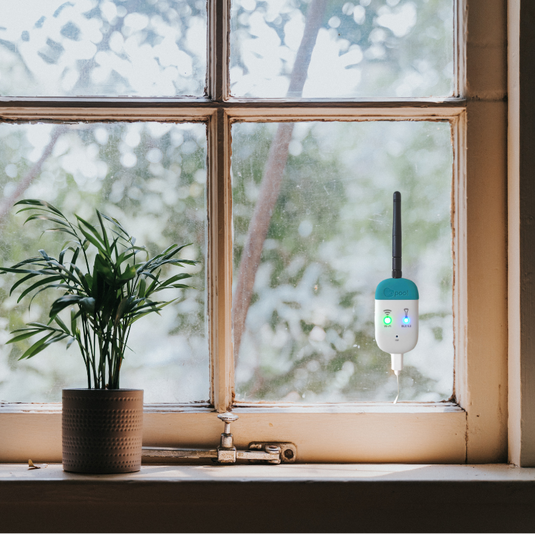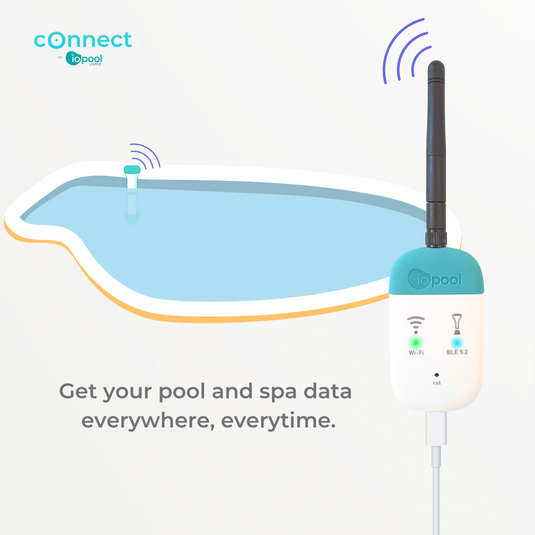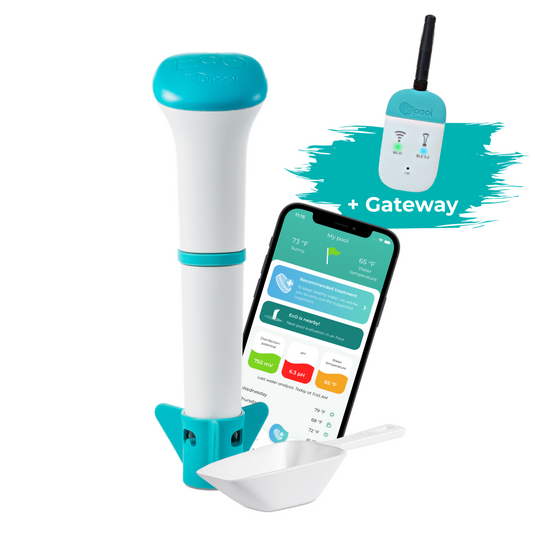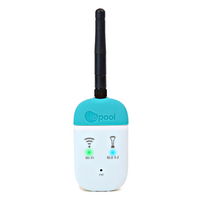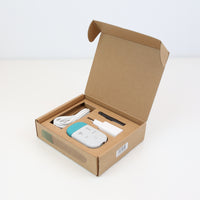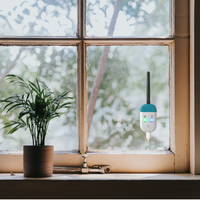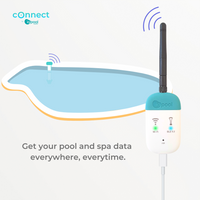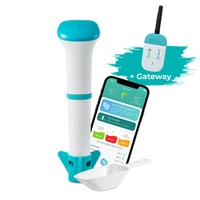 EcO Plus Connect: Control Your Pool From Anywhere!
Maintaining a pool can be a tedious task. That's why our team has developed EcO, an intelligent and connected probe, perfect for both pools and jacuzzis/spas. Discover the EcO Plus Connect pack, the ultimate solution for smart pool management, no matter where you are. This pack combines the power of the EcO probe with the connectivity of the iopool Bluetooth/Wi-Fi relay, giving you full control over your pool's water quality, even when you're far from home.
Advantages
Discreet: EcO blends discreetly into your pool.
Easy to Use: Simply let it float.
Enhanced Accuracy: Reliable measurements for consistently healthy water.
Free iopool App: Receive personalized recommendations.
2-Year Warranty: Enjoy the assurance of a quality product.
Limitless Remote Access
The Bluetooth/Wi-Fi relay included in this pack revolutionizes how you monitor your pool. Now you can access your pool's data from anywhere, whether you're on vacation, at work, or at home.
User-Friendly
All you need to do is place EcO in the water, following our step-by-step guide. The iopool app will then allow you to check real-time measurements of your water, including pH, ORP (oxidation-reduction potential), disinfection capacity, and water temperature.
ORP is a key indicator of your pool water's quality, measuring the overall sanitation level.
This Package Includes
The EcO Plus Connect pack includes:
The EcO smart analyzer.
The Bluetooth/Wi-Fi relay for limitless remote access.
Complimentary products*:

pH-, 1 kg;
pH+, 1 kg;
Rapid chlorine, 1 kg OR Active oxygen, 1 kg OR Bromine, 1 kg.

A startup guide;
A dosing spoon;
3 test strips;
Free access to the iopool app;
Complimentary products may be replaced with equivalents based on stock and season.
iopool App
The iopool app provides maintenance recommendations based on the data collected by EcO. Say goodbye to guesswork! The app tells you when and how much product to use to maintain your pool's chemical balance. EcO + iopool App = Clear, safe, and balanced water 24/7. You can download our app for free on the Apple Store (iOS) or Google Play Store (Android).
Compatibility
| Treatment | Spa | Pool |
| --- | --- | --- |
| Chlorine | ✓ | ✓ |
| Bromine | ✓ | ✓ |
| Active Oxygen | ✓ | ✓* |
| Salt | ✗ | ✗ |
*In addition to a chlorine-based treatment.
Warning
EcO must always remain submerged in water. Prolonged exposure to air can damage the sensors.
Not compatible with salt-treated pools/spas. For this type of treatment, please check our EcO Start Salt + Connect solution.
EcO should be stored properly (follow the app's instructions) when the water temperature is below 15 degrees Celsius.
Frequently Asked Questions
What about test strips/strip tests?
Test strips are always useful for measuring stabilizer levels, alkalinity, and water hardness. The app will recommend performing strip tests during installation and as needed. Learn more on our blog.
What if I'm not satisfied?
If you're not completely satisfied, take advantage of our 30-day money-back guarantee.
Can I use EcO with pool chemicals that are not iopool brand?
Absolutely. However, for the best experience, we recommend using our iopool pool maintenance chemicals. Why? Because our recommendation engine is specially designed to work with our products.
What is the probe's lifespan?
EcO has a 2-year lifespan. After this period, you can order a replacement module (€99.00). Purchasing this module extends the warranty by an additional two years.
What is the probe's warranty duration?
The EcO probe is covered by a 2-year warranty from the date of purchase.
Do I need a subscription?
No, there's no subscription required. You can access all features, including chat customer support.
Can I access my data worldwide?
Yes, it's possible with this complete pack, including the Bluetooth/Wi-Fi relay.
What parameters are monitored?
The EcO probe monitors the following parameters:
Water temperature.
Disinfection capacity (redox potential, ORP).
pH (hydrogen potential).
Do you have other questions?
Check out our dedicated FAQ section or contact us via in-app support or on our website.
| Property | Description | Quantity | Unit |
| --- | --- | --- | --- |
| IOT | Connect your probe with our IOS or Android application | NA | NA |
| Also include | 1kg pH+, 1.5kg pH-, 1kg shock chlorine, spoon | NA | NA |
| Weight of package | +/- 4kg | 4 | Kg |
| Weight of EcO probe | Lightweight | 150 | g |
| Size (Height) | Small | 20 | cm |
| Size (Width) | Small | 5 | cm |
| Bluetooth (Low Energy) | A technology that uses less electricity, allow our probe to have a much longer life time | 0 | NA |
| Lifetime | 2 years lifetime. After that, you should buy a remplacement module (99,00 €) | 2 | years |
| Recommanded price, taxe included | 199,99 € | 199 | euro (€) |
| Registred data | Water temperature, | | |
| desinfection capacity (Redox, ORP), pH | NA | NA | |
| Recommandation engine | Water hardness, water alkalinity | | |
| amount of stabilizer (cyanuric acid level) | NA | NA | |
| Related articles | Bluetooth / Wi-Fi Gateway, ioapp, chemicals, replacement module | NA | NA |




Deliverytime extreem long
Good product, but deliverytime is way too long.
Très content
J'ai pris la sonde avec le module wifi. Je suis très content de la sonde et de son application qui me permettent de ne pas laisser déraper la qualité de mon eau de piscine. Super produit. Je consulte l'application tous les jours. Pas de surdosage produit.
Retour après 10 Jours d'utilisation
Mise en route simple et rapide.
Rien de bien compliqué, explication simple claire et en Français. A voir dans le temps. Les infos de la sonde et reporté par le relais Wi-Fi sont parfaites.
Faites des économies
Le mot d'ordre est économie du temps, Energie et argent !!!