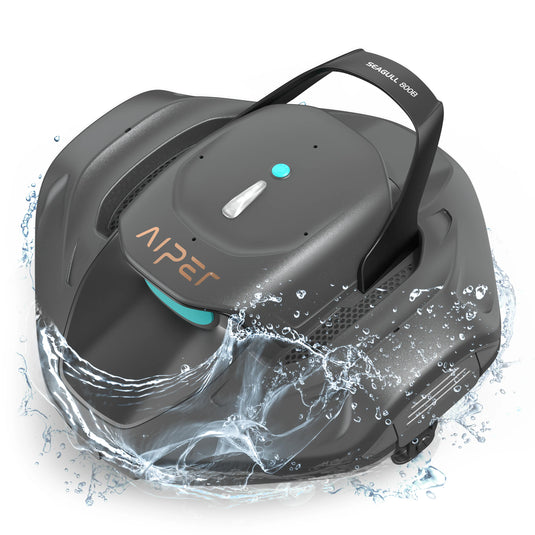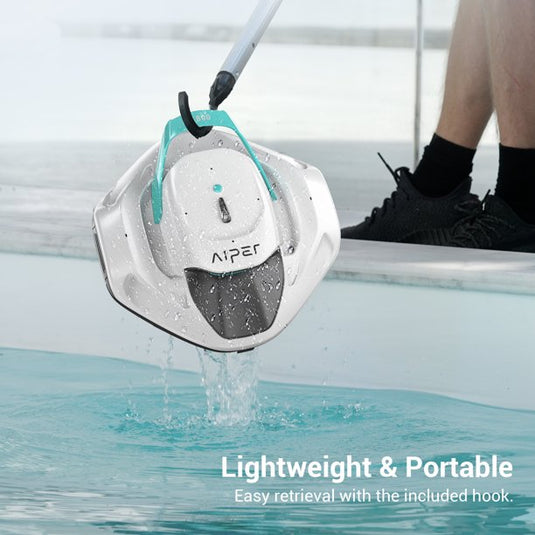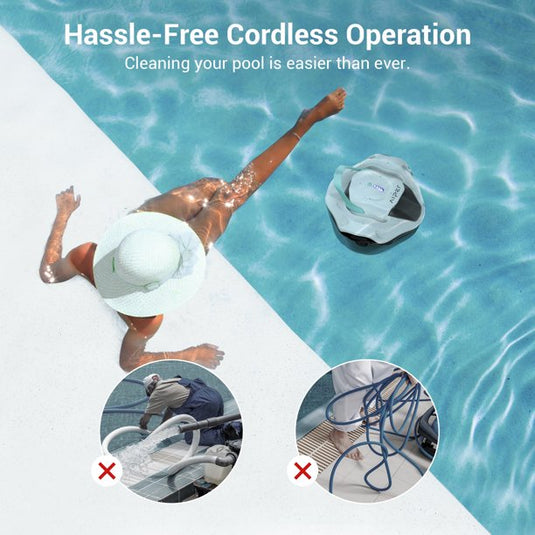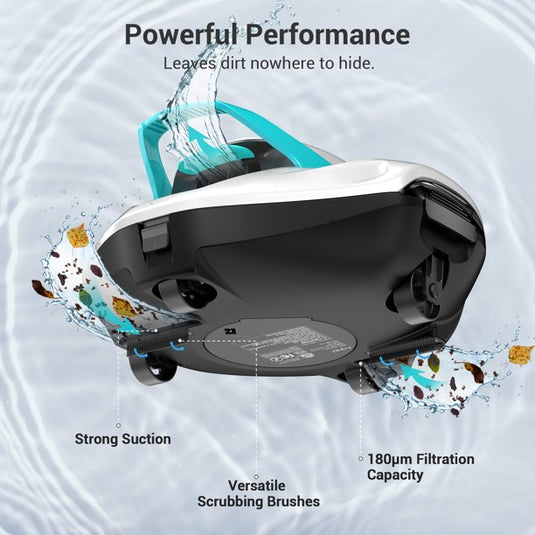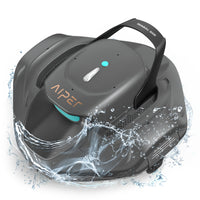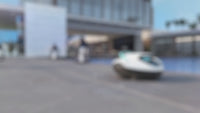 Product Description
The Aiper Seagull 800 cordless robotic pool cleaner is the ultimate solution for cleaning your flat-floored above-ground pools or in-ground pools with no slopes. With its dual-drive motors, 90-minute battery life, and one-click activation, this hassle-free robotic pool cleaner will leave your pool spotless in no time.
Thanks to its ETL certification, the cordless robotic pool vacuum ensures safe and efficient cleaning of your pool. Its ultra-portable design with an ergonomically designed handle makes it easy to lift and store. Plus, its self-parking feature allows the robotic pool cleaner to automatically stop near the pool wall once the cleaning cycle is complete or the battery is low, making retrieval easier.
The Aiper Seagull 800 features decent suction power and can pick up fine leaves, sands, dirt, and other debris with ease, ensuring your pool remains sparkling clean. With a larger battery and rapid charging, this robotic pool cleaner can clean larger pools up to 40ft with a longer runtime of 90 minutes, and a 50% reduction in charging time compared to older models.
Say goodbye to the hassle of pool cleaning and enjoy a pristinely clean pool all year round with the Aiper Seagull 800 cordless robotic pool cleaner.
Disclaimer: We aim to provide accurate product information. However, manufacturers, suppliers, and others may provide information that we have not verified. Please refer to the product specifications for complete details.
Specifications
For round pools up to 33ft and rectangular pools up to 40ft.
Features: Cordless, Energy Efficient, Indicator Light, Rechargeable Motor
Brand: Aiper
Manufacturer Part Number: ZT2001
Manufacturer: AIPER
Assembled Product Dimensions (L x W x H): 13.40 x 13.20 x 6.80 Inches

⚠️ Do not make the walls
Trop rapide
Le Seagull est un bon robot mais sa vitesse fait que les crasses reposant dans le fond se dispersent, rendant l'aspiration moins performante
FAIT LE JOB / DURABILITE MEDIOCRE
Après trois semaines d'utilisation, le robot ne s'allume plus ...
dommage car il faisait le job très bien...
Remboursement direct.
SAV efficace
Suite aux problèmes de mon robot, le SAV a été rapide et efficace, mon nouveau robot et déjà en cours de livraison.
Merci de la réactivité de l'équipe de iopool.
Plus de Leds, fragile.
Tres bon aspirateur, avec assez d'autonomie pour ma piscine (4,5m diam., 14000L).
Mais depuis hier, apres 2 semaines d'utilisation, les LED d'indication de charge ne fonctionnent plus. De plus, en sortant le robot, le clip frontal s'est casse juste avec un choc minime avec l' echelle, cela n'affecte pas semble t il son fonctionnement et son aspiration.
Donc materiel un peu fragile et pas totallement etanche.
Robot aspirateur
Excellent produit, je recommande
Plutôt bon - Autonomie confortable
Comme exprimé dans un autre commentaire, il est dommage qu'il soit réglé pour aller aussi vite sous l'eau car il récupérerait sûrement plus de saletés plutôt que de les éparpiller (point négatif), d'autant plus avec son autonomie très confortable d'1h30/1h45 chez moi (point très positif)
Il n'en reste pas moins qu'il fait très bien le job que ce soit pour les petites particules (sable fin) que pour les plus grosses saletés (petit gravier - merci ma fille 😅 - aiguille de sapin)
Au final, très content du produit depuis début juin.