Where Is the Best Place to Apply Chlorine Tabs in Your Pool?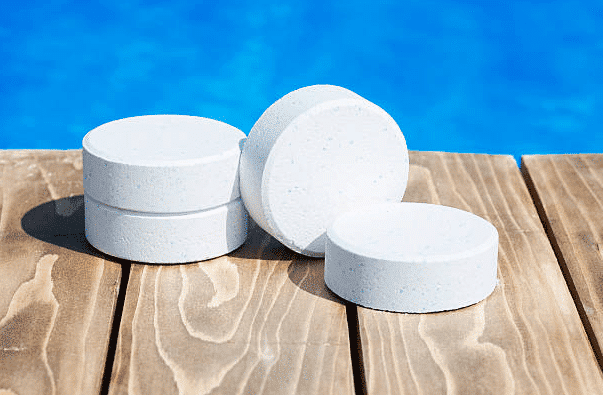 Chlorine tabs are designed to gradually dissolve and slowly release chlorine into your water. But, where it is best to apply your chlorine tabs in your pool? Here are the answers you might be searching for.
Chlorine
Chlorine is the most popular chemical when it comes to pool sanitization. It can be found in tablets, granules, and stick forms. Chlorine tablets are the most commonly used and most efficient sanitizer for pools because of their ease of use.
ALWAYS Add Chlorine Tablets To Your Skimmer, Floating Dispenser, or Automatic Chlorinator
Skimmer
Adding chlorine tablets to your skimmer is one of the best places to dispense chlorine, and it is also the easiest. There is no hassle and no extra equipment necessary.
With a constant stream of water running through the skimmer most of the day, it offers a great spot to distribute chlorine. It also will spread the chlorine reasonably evenly.
Floating Dispenser
Floating dispensers (also known as chlorine diffusers) are also user-friendly. You just need to add the needed tabs in the dispenser and let it float throughout the pool. It will release the chlorine into your water as the tablets dissolve.
One issue is that it may get stuck in one spot of the pool, leading to uneven spreading of chlorine.
Automatic Chlorinator
The most effective way to chlorinate your pool is to do so with an automatic chlorinator. Simply put the chlorine tablets into the chlorinator and set it to the chlorine level needed. A precise quantity of product will be released in the water.
The equipment comes as a cost, but gives you full control over the used chlorine. You also might save product compared to regular floating dispensers.
Warning
DO NEVER just throw the tabs into your pool water. This will cause them to dissolve on the floor and it can damage and create a permanent stain on your liner or concrete.
Still have questions about chlorine?
We are glad to help! Send us a message!
iopool store
Shop the essentials