Need for inspiration? Check out these cool Pool Lighting ideas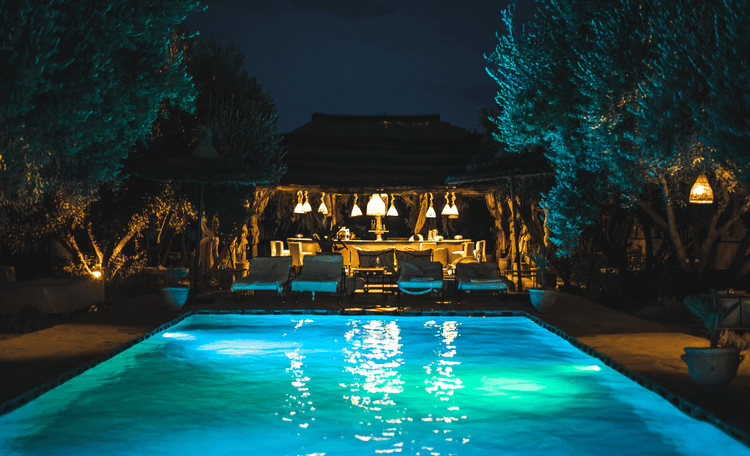 Find the inspiration you need to turn your backyard into a luxurious oasis with the perfect pool lighting. Something as simple as LED lights could transform your outdoor space from ordinary to magical. And, of course, pool lighting also adds an element of safety. They illuminate the area and help prevent accidental dips (or slips) in the pool. You have quite a few options for light ideas that go beyond your typical submerged lights. Keep reading to get some inspiration for the lighting of your pool area.
Whether you have a pool or a hut-tub.🌊
Moon lighting
Give the illusion of moonlight by mounting lights in trees and roof gables. This look creates unique shadows that give the impression of swimming under the moonlight. This lighting style also creates a romantic ambiance—perfect for hosting a backyard date night.
Pool adjacent lighting
When it comes to lighting, you don't have to stick to the pool—involve surrounding structures. For instance, hang lights on arbors, pergolas, and umbrellas. These structures provide shade during the day, and it may become too dark at night. So consider adding outdoor chandeliers or dimmable lights.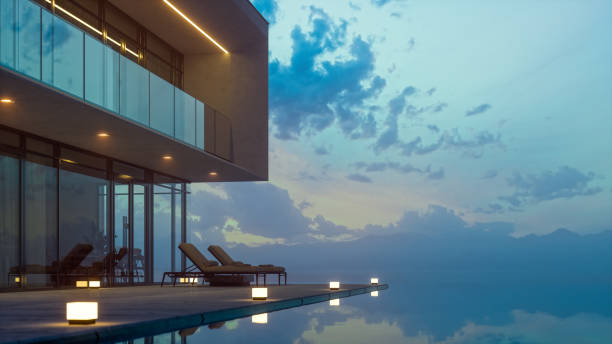 Tiki torches
No, we're not talking about the cheap tiki torches you get at your local discount store. Instead, high-quality tiki lamps are made with durable brass that contributes to your outdoor decor. 
You can choose to fill them with oil for a more authentic look or purchase one with a light bulb.
In addition, torches come in various heights, so you're bound to find something that'll light the perimeter of your pool.
Caution: Practice extra care when using open flames around your property. If flame torches make you nervous, opt for electric tiki lamps. Solar-powered torch lamps are also a great alternative.
Plant lighting
If you want to recreate a resort atmosphere in your backyard, surround your pool with greenery and complement it with lighting.
For example, you can place LED lights around flower beds or shrubs. If you have tall perennials, you can install directional uplighting — this way, you'll see the light, not the fixture.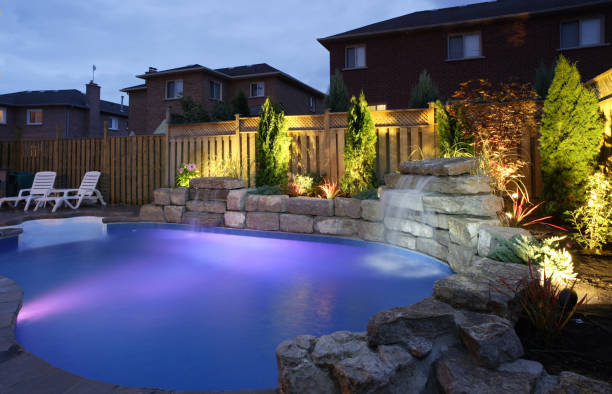 Floating pool lights
Set the mood for your next pool party with floating LED pool lights. What's excellent about floating lights is that you can adjust the colors to match the vibe of any occasion. 
Floating lights cast a vibrant glow on your pool and allow swimmers to safely enjoy a dip in the pool at night. And don't worry, floating lights are waterproof.
Stair lights
If your pool area includes steps to a deck or patio, don't forget to light them for safety. You can do this by adding lighting to the stair tread—the horizontal part of the stairs. 
Tread lights direct the light down on the step below it. And they provide enough light for safety without being distracting.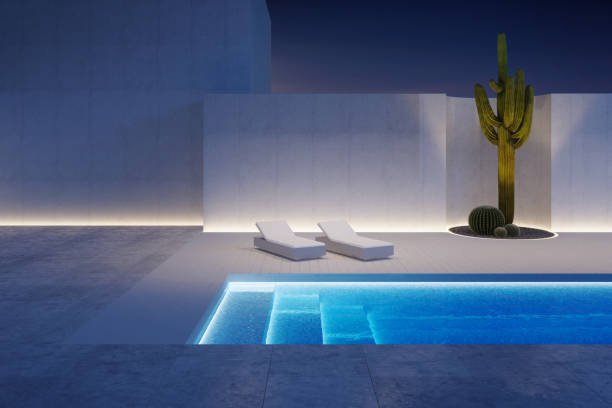 Pro tip: Ensure your lights aren't violating regional codes for how far they can be from the surface of your pool. This will depend on the light's IP rating, so check with a professional before adding tread lights.
Spotlights
Want to show off those gorgeous roses you've been growing all spring? Give them some shine with a spotlight. You can use spotlights to highlight your favorite features. 
And you can also create uplighting and downlighting effects with a spotlight; both methods illuminate your pool area beautifully.
Well lights
These lights are embedded in the ground to provide light in dark areas. Well lights are typically installed directly into the ground, so you can place them around the perimeter of your inground pool.
Enjoy your pool — day or night
Installing lights around your pool area can transform the mood and feel of your space. You have quite a few options for illuminating your backyard environment—the type you choose depends on your decor and the vibe you're trying to achieve.
Lighting also extends the use of your pool and allows you to take advantage of summer evenings. In addition, it provides increased visibility and safety, so swimmers can take a dip, even when it's dark out.
You want to discover more pool inspiration articles? Check this! You want to get more pool lighting inspiration? Discover theses Pins from the Pinterest Account of Swinuniversity.com.
iopool store
Shop the essentials