The Ultimate Hot-tub Buying Guide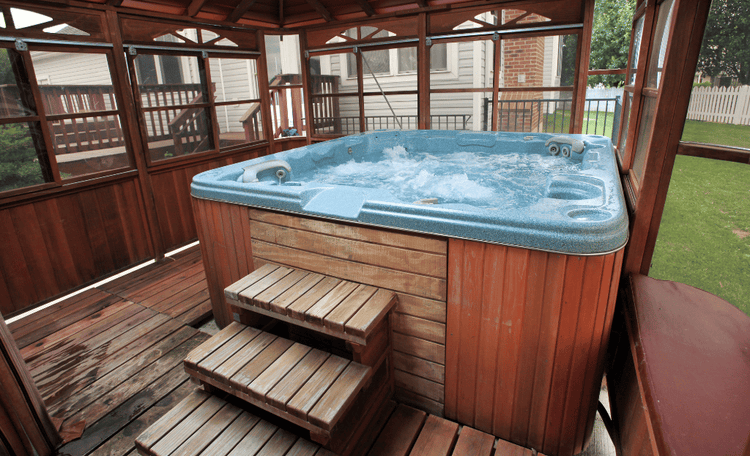 A hot tub is a significant purchase. And it's a wise investment for your body, mind, and home. But how do you know which type of hot tub to choose? With so many options on the market, it can be challenging to narrow down your choices. Here is a full guide.
Summary
What is a hot tub?
Its benefits
Types of material
Features
High-end hot tub
Where to buy it?
Inflatable hot tubs
Costs of owning of hot tub?
What Is a Hot Tub?
A hot tub, or hot spa, is like a regular bathtub that can fit two or more people. They also have features such as massage jets—which are used for relaxation.
Hot tubs also have an outer cabinet, which holds the bath shell. The shell is the inner piece of the hot tubs that holds the water. Hot tubs also have pumps that circulate the water in and out of the tub.
Due to their size, hot tubs are often placed outside—typically on a deck or patio. So, before you think about investing in a hot tub, you might want to consider the space.
Hot spas can either be above-ground or in-ground, with above-ground being the more affordable option.
What Are the Benefits of Owning One?
Owning a hot tub adds to the atmosphere of your outdoor area. But the benefits don't stop there. Soaking in a hot spa help improve your health and have many benefits for your body.
Stress Relief
Sitting in a hot tub after a long day can help ease tensions. The soothing effect of the warm water and massage jets helps relieve physical, emotional, and mental stress. 
Muscle Relaxation
The hot water and massage jet action are enough to increase blood circulation and relax tense muscles.
Improved Sleep
According to research, relaxation from sitting in a hot tub can help you get more sleep. For example, one study found that soaking in a hot tub for 90 minutes before bed could promote a peaceful night. 
Another study looked at the effects of hydrotherapy on sleep quality for people with fibromyalgia. Researchers found that hydrotherapy from hot spas not only improved sleep but helped reduce symptoms of fibromyalgia.
Joint Pain Relief
If you have arthritis or deal with joint pain, the heat and massage jets could ease stiffness and inflammation that cause pain. How? Soaking in water takes the weight off your joints, which helps improve flexibility and range of motion. 
Better Cardiovascular Health
Relaxing in a hot tub can raise your heart rate, which lowers your blood pressure. According to a 2016 study, hot water immersion helps reduce cardiovascular risk and mortality. In addition, the study found that soaking in hot water for 10 minutes may lower blood pressure.
Hot Tub Materials to Consider
When choosing a hot tub, it's essential to consider the type of material it's made of. The type of shell you select will affect maintenance, aesthetics, and durability. And the kind of material will also depend on your budget. 
Acrylic 
Price range: $4,000 to $11,000
Acrylic hot tub shells are considered one of the most durable on the market. But they're heavy, so that means it's not easy to reposition them. So installing an acrylic shell is a huge commitment.
Pros:
Shiny aesthetic;
Non-porous—offers decent insulation;
Great temperature retention.
Cons:
Not recyclable;
Heavy;
More expensive than some other materials.
Vinyl
Price range: $500 to $2,000
Vinyl is another common hot tub material found in inflatable hot tubs. This material is more affordable than others but isn't as durable. And vinyl doesn't hold heat well—making your heat pump run harder. Not to mention, excessive exposure to sunlight could fade the color. 
Pros:
More affordable;
Lightweight;
Easy to move/transport.
Cons:
Doesn't retain heat well;
Prone to damage if the water chemistry is imbalanced;
Can't run the spa heater and jets at the same time;.
Rotomolded Plastic
Price range: $2,000 to $16,000
Similar to vinyl, rotomolded plastic hot tubs are lightweight and portable. This gives you more options for where it may be placed in your backyard. A huge draw to this type is that many rotomolded plastic hot tubs are 'plug and play. So you don't need an electrician; all you have is to fill it up with water and plug it in. The downsized is that it doesn't hold heat well, so you may have to pay more for electricity over time. 
Pros:
More affordable than acrylic, wood, and fiberglass;
Easy to install;
Lightweight and portable.
Cons:
Appearance isn't as shiny as acrylic and fiberglass;
Can't withstand cold temperatures;
It doesn't have many jets.
Wood
Price range: $3,000 to $10,000
Wood hot tubs offer a unique and sleek aesthetic. The best wood hot tubs are made from high-quality lumber, which ensures longevity. A drawback to wood hot tubs, though, is their upkeep. The wood is prone to rapid decay and fungus growth with water in it, especially if not cared for properly. Without water in it, the wood can crack and leak when exposed to the elements.
Pros:
Sleek feel and look;
Can be made deeper than acrylic, vinyl, and plastic hot tubs;
Can be recycled.
Cons:
It doesn't retain heat well;
Higher maintenance;
Requires extensive installation.
Fiberglass
Price range: $28,000 to $32,000
Like acrylic, fiberglass is a smooth and non-porous material. It's also highly resistant to staining and fading. But a significant drawback is that it isn't durable and can be prone to chipping and cracking.
Pros:
Lightweight;
Multiple color options;
Beautiful finish.
Cons:
Prone to scratching;
Thin and not durable.
Hot Tub Key Features to Consider
In addition to material, you must also think about the features you want out of your hot tub.
Exterior Cabinets
The cabinet is the part that surrounds the outside. Hot tub exteriors are available in various colors, textures, and patterns. But remember that natural wood cabinets will look warm and rich but may require extra maintenance. However, synthetic ones are UV resistant and don't require much upkeep. 
If you don't mind sacrificing aesthetics, opt for a spa with easy-to-remove side panels. These are easier to maintain and cheaper. 
Hot Tub Insulation
Hot tub manufacturers insulate the inside with a thick layer of expanding foam. Some manufacturers fill the whole cabinet, while some insulate the underneath the shell and the interior floor. Suppose you live in a region with a cold climate. In that case, you may want to ensure that the interior is sufficiently insulated.
Hot Tub Lighting
Today's hot spas come with improved lighting options. You'll find that many hot tubs have lights placed above the water, along the rim, and below the water—which helps you move safely around the spa. In addition, some spas provide controls to change the light color and brightness. And almost all spa lights are LED bulbs.
Hot Tub Controls
Nowadays, hot tubs come with smart controls which allow you to operate the hot tub from your smartphone. If you're not tech-savvy and prefer the old-school way, you can control its functions with a remote. The type of control panel you choose all comes down to personal preference.
Regardless of the type of control panel you prefer, you want to ensure that it has some of these functions:
Blower control: Controls the hot tub's influx of air, triggering bubbles from the jets.
Lights: You should be able to adjust the brightness and color.
Jets: Most spas have the option to control the speed and intensity of the jets.
Temperature: Many hot tubs come with pre-programmed temperature settings, but you should also be able to control it manually.
Alerts: Your control panel should alert you of overheating or GFCI failure.
Massage jets: Look for a hot tub with foot and neck jets for added hydrotherapeutic benefits.
Cooling Systems
A cooling system allows you to enjoy your spa all year round by adjusting the water temperature to warmer or cooler depending on the season. So you can chill the water to enjoy a refreshing dip on a hot afternoon, then raise the temperature later in the day for a muscle relaxing soak.
What about High-End Hot Tub?
When shopping for hot tubs, it can be hard to narrow down the choices. So you have high-end spas with tons of bells and whistles to bare-boned budget-friendly ones. 
But the first step to making a choice is knowing the difference between high-end and value hot tubs.
Value
Construction: A value hot tub might have an exterior made from a single piece of plastic or metal. The drawback is that if maintenance is needed, the exterior may need to be destroyed.
Energy efficiency: Many value hot spas are "plug and play", meaning they run on the same electrical voltage as other household appliances: 110V. So you can plug the unit into an electrical outlet, fill it up with a hose, and take a dip. But these types can nearly quadruple your monthly energy bill more than an energy-efficient hot tub.
Filtration: A basic hot tub will filter fewer gallons per minute through the filtration system. As a result, you will need to run the tub longer to filter the water efficiently.
Seating: Value hot spas might have benches rather than individually molded seats.
Pump and jets: Most low-end models will offer less powerful pumps which produce less intense jet speed and pressure.
Features and accessories: A value hot tub delivers essential functions and may include a few extra features. If you want more fancy gadgets like sound systems and Bluetooth control panels, you may want to opt for a mid-range to high-end hot tub.
High-End
Construction: Higher-end hot tubs have access panels that allow plumbers and electricians to pump easily and motors without damaging the exterior.
Energy efficiency: Most high-end hot tubs use 220V to 240V. So you will need to connect the hot tub to the breaker box outside your home. Compared to basic hot tubs, high-end ones don't cause your energy bills to skyrocket.
Filtration: Expensive hot tubs typically have an advanced filtration system that gets more gallons per minute of water through the filter. Therefore, it can efficiently clean the hot tub.
Seating: A higher-end model can seat up to 12 people comfortably. And some models might have a "lounge" style that allows bathers to recline.
Pump and jets: You will get higher quality pumps. In particular, look for a model that runs on four to five-horsepower motors.
Features and accessories: Luxury and mid-range hot tubs include smart features, like the option to control functions from your smartphone. Some models may even accommodate saltwater.
Where to Buy Your Hot Tub?
You have a few options for purchasing a hot tub.
Hot Tub Dealer
A spa dealer is one of the best places to purchase a spa. They offer a variety of brands and models, so you're bound to find something that suits your tastes. Most dealers will even let you try out different jets before committing to a purchase.
In addition, a dealer's expertise is important before you buy. They will help answer your questions and provide everything you need to prepare for installation.
Online
Purchasing a spa online is the least expensive option, but they aren't as convenient as a hot tub dealer. Online purchases often don't include installation. And most online retailers don't have expert advice on maintenance and care.
Big Box Store
Your local big box store has a small selection of hot tubs. But the disadvantage is that they don't offer a wide variety of therapy options. Also, the salespeople have less product expertise. Therefore, you will have to do your own research on specific models. 
Shows and Fairs
Another place you can find a hot tub is at a home show or parking lot sale. Like shopping at a big box store, you also want to do research on the hot tub brand before purchasing. If premium spas are displayed at home events, it may be a great way to save a little money on a high-quality spa. 
What About Inflatable Hot Tubs?
If you're not quite ready to get invest in a traditional hard shell hot spa, you have an alternative. Inflatable hot tubs have many basic functionalities of a regular hot tub.
Inflatable or blow-up hot tubs are made of vinyl and range anywhere from $500 to $2,000. But you'll find that some of the best options, like the Intex Pure Spa Portable Jet, fall on the lower end of the price spectrum.
We have made a comparative guide of 3 popular hot tubs, discover it right here.
How does an inflatable hot tub compare to a traditional one? Let's look at a few of the ways:
Installation
Many inflatable hot tubs can be set up in less than half an hour. All you have to do is unfold the material, inflate it, and fill it with water. However, with some models, you may need to wait 24 hours before it can reach the optimum temperature.
Flexibility
Traditional spas have specific requirements about where they can be placed, typically involving installing a concrete pad. However, with inflatables, all you need is a level ground that can support the weight of the filled tub and bathers.
And since inflatables can be easily deflated, they are easy to move around your yard when necessary. In addition, inflatable spas are simple to pack and store—making them a great option for those with RVs or who enjoy camping.
Size and Capacity
Inflatables aren't necessarily small. Although they are compact, inflatable hot tubs typically fit between two and six people. They also hold up to 300 gallons of water and provide a water depth of 26-28 inches.
Hard Water Treatment System
Some inflatable hot tubs offer a hard water treatment system. This is great for helping filter minerals from water and improves overall function.
Massage Jets
While you will enjoy the therapeutic benefits of massage jets, inflatable hot tub jets aren't as powerful as those in a permanent hot tub. However, some inflatable spa tubs come with air and hydro jets, which help replicate regular spa jets.
Structure and Accessories
Like traditional hot tubs, inflatables also offer unique features—including LED lights and Bluetooth systems. However, there are some limitations. For instance, most inflatable hot tubs lack comfortable or structured seating.
Affordable Option
An inflatable spa is a great entry-level product. They're reasonably priced and give you the chance to get the spa experience while on a budget. 
Heating Can Be Costly
Although an inflatable spa has an affordable price tag, it could bring higher in-use costs. For instance, inflatable hot tubs can cost more to heat and run than traditional spas. One of the reasons is that vinyl inflatable tubs aren't well insulated. And the higher the water temperature is set, the more energy will be required to maintain it, thus higher energy costs.
Cold Weather Could Hamper Use
Most inflatable spas are designed to be used for warming months of the year. So when temperatures begin to drop, you will need to drain the spa and store it. On the other hand, you can use a traditional hot tub all year round. Therefore, if you want to soak in a hot tub during winter, it's probably best to opt for a permanent spa.
Durability Can Be a Concern
The lifespan of a traditional hot tub is longer than an inflatable one. For example, heaters are the most common parts to malfunction. Additionally, the vinyl material makes inflatable hot tubs more prone to rips, tears, and leaks. But there are inflatable spas that have a more durable construction. And following recommended advice on hot tub maintenance can help extend its lifespan.
What Are the Costs of Buying and Owning a Hot Tub?
The sticker price isn't the final cost of a hot tub. There are many additional costs—including installation, maintenance, and supplies. Here's a complete breakdown:
Shipping
The shipping cost may be included depending on where you purchase your hot tub. If it isn't explicitly stated, be sure to inquire about the shipping price.
Outdoor Foundation Support
You'll need an area to place the hot tub that can support the weight of the tub plus bathers. The average foundation is a concrete slab of 4 inches or thicker. You could also construct wood decking with a concrete foundation. The cost of laying out a foundation can cost up to $2,000—including labor and materials.
Installation
For an above-ground hot tub, you can expect to pay $150 to $490. An in-ground hot tub installation typically ranges from $15,000 to $20,000. The cost of installation includes excavation, plumbing, and electrical wiring.
DIYing can save you thousands, but we don't recommend this. Mistakes during installation can be costly and dangerous. And DIYing your installation can void the hot tub's warranty.
Filters
You'll need to clean your hot tub filter every week. And you also need to replace the filter every year. Getting your filter professionally cleaned can cost $240 per year, and replacement could cost up to $400.
Chemicals
You can expect to pay $150 to $300 yearly on chemicals. These are essential for preventing bacteria growth and keeping the water safe for bathers. If you're lucky, some hot tub suppliers will include a year's worth of chemicals with your purchase as an added bonus. If you need any chemicals, you can go to our online shop.
Heating and Electricity
How much you pay for electricity and heating will depend on the model you have. For example, a lower-end hot tub will cost more to operate and adds an additional $20 monthly to your energy bill.
Have You Made Your Choice?
We hope you appreciate our ultimate spa buying guide! As you've understood, the type of hot tub you choose depends on your budget, lifestyle, and the benefits you desire. For example, opt for a lower-end to mid-range spa if you want a hot tub that delivers basic functions. But if you're looking for something with powerful jets and state-of-the-art functions, choose a higher-end luxury model.
Regardless of which type you choose, you will still reap the health rewards of owning a hot tub. For example, soaking in a hot tub could promote relaxation, improve sleep, and reduce the risk of cardiovascular disease.
For more spa and pool advice, stay tuned to our blog. And don't forget to sign up for email updates.
iopool store
Shop the essentials