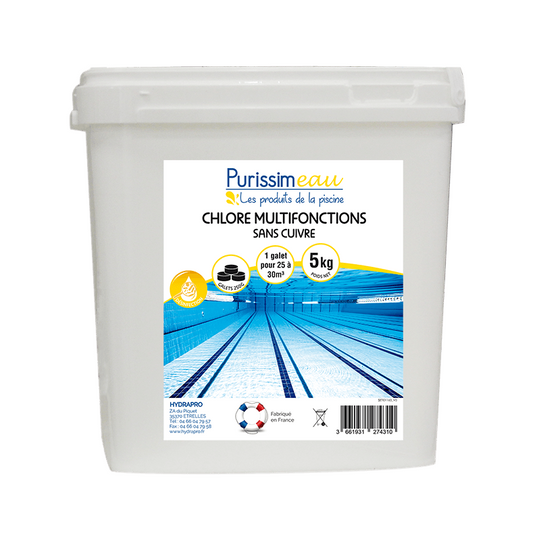 Why use copper-free, boric acid-free multifunction slow chlorine
Multifunctional copper-free chlorine is developed as a disinfectant, anti-algae, stabilizer, and clarifier for your pool water.

Multifunctional Chlorine without copper is a disinfectant product that gets rid of micro-organisms in the water. It is recommended for all liners in order to avoid stains and permanent discoloration on liners or parts to be sealed.

Use it with our app
You can free download our application on Apple Store (IOS) or Play Store (Android). Then you can follow advice from our recommendation engine to know when and how you can use our chemicals products.
How it works
When it comes into contact with your swimming pool water, chlorine is released and creates sub-components:
Active chlorine whose disinfectant effects are active;
Potential chlorine, the disinfectant potential of which will gradually be released over time and will therefore be transformed into active chlorine;
Chloramine, produced during the degradation of organic matter by chlorine.
Main advantages
Boric acid-free
Copper-free : 

recommended for all coatings to avoid stains and permanent discoloration (on liners or pieces to be sealed).

Long-lasting disinfection: fights against micro-organisms.
Anti-algae: destroys algae and prevents their development.
Clarifying: Improves filtration and clarifies the water.
Stabilization: Prevents the destruction of the disinfectant by the sun.
Quality/price ratio;
Treatment efficiency;
Good friability.
Made in France
Usage advice
Use 1 tab for 25 to 30m3 of water

Check if pH is between 7 and 7.4;
Clean the skimmer of all impurities;
Place the chlorine tab in the skimmer;
Activate water filtration.
Related blog articles
Find helpful tips, tricks, and information about chlorine on our blog.
Warning
Place chlorine tabs inside the skimmer or in a floating diffuser;
DON'T put in direct touch with the swimming pool liner to avoid decoloration;
Use biocidal products with care, read the label and product information before use;
Authorization number n°2011 B;
This product is intended for the French market only.
Bon produit.
Aucun souci avec ce produit, mon taux de chlore est optimale. Le galet de 250g dure environ une semaine et demie. Satisfait du produit.
aucune efficacité
j'ai beau mettre des pastilles, le niveau de chlore ne fait que baisser...
aucune action! 60€de perdu, tres deçu