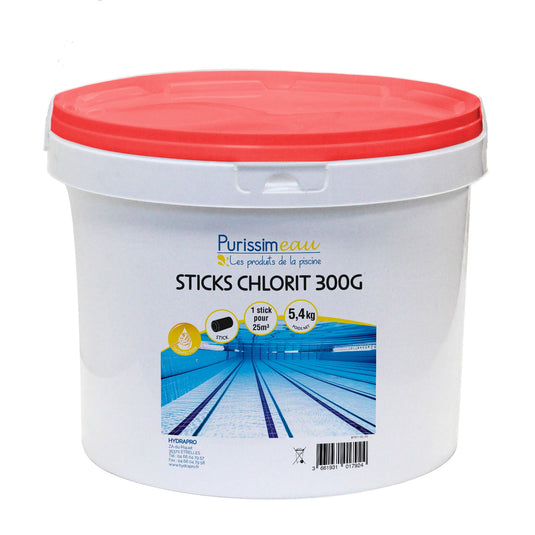 Why use non-stabilized chlorine
A known problem with repeated use of the stabilized chlorine tablets is the overstabilization of the pool water with cyanuric acid (stabilizer). This results in the blocking of the disinfecting action. With this product, this problem does not arise and chlorine is always actively available.
Use it with our app
You can free download our application on Apple Store (IOS) or Play Store (Android). Then you can follow advice from our recommendation engine to know when and how you can use our chemical products.
How it works
Chlorit Sticks 300 g are unstabilized chlorine-based disinfectants that get rid of bacteria, viruses, and fungi in the water. This product is suitable for soft water and does not add cyanuric acid to the water.
Chlorit Sticks 300 g are to be introduced into the skimmer of your pool every 4 to 5 days.
Conventional chlorine disinfection not only has a bactericidal action but also removes unfilterable organic impurities by means of oxidation. Conventional chlorine disinfection is always the most reliable option, especially if the water is particularly polluted.

Related blog articles
Find helpful tips, tricks, and information about chlorine on our blog.
Main advantages
Slow dissolving;
Permanently available chlorine content;
Cyanuric acid free: no risk of overstabilization;
Compatible with all filtration systems;
Minimal effect on pH;
Completely residue-free solution.
Usage advice
Check if pH is between 7.2 and 7.6;
Clean the skimmer of all impurities;
Place the chlorine sticks in the skimmer;
Activate water filtration.
Warning
Never pour water on the product, the product already reacts violently with a little water;
The stability of the product is guaranteed if it is stored in a dry and ventilated place;
DON'T put in direct touch with the swimming pool liner to avoid decoloration;
Use biocidal products with care, read the label and product information before use;
Product registered under SIMMBAD under N°38698;
This product is intended for the French market only.
Pas trop satisfaite
Les sticks ne se désintégre pas correctement.
A eviter
Sonde commandée en juin. Jusque là le chlore lent faisait son travail,j ai pris le chlore non stabilisé suite aux répétitions de la sonde. J ai mislegalet et mon chlore est tombé de 544 à moins de 300. J ai du faire un chlore choc pour éviter que l eau ne tourne. Tous les autres paramètres étaient bons .controle bandelettes aussi
Chlore non stabilisé
Efficace mais ça fait monter le ph..
Conforme
Bien emballé et livraison rapide
Se dissout difficilement dans son emballage plastique
Produit plus ou moins efficace et pour ma part difficile à dissoudre seul dans son emballage plastique dans un skimmer si l'on touche le produit pour favoriser la dissolution alors là il se dissout instantanément .
Non-Stabilized Chlorine Sticks (300g Chlorit sticks) - 5,4kg
Chlore pur
Le produit se dissout rapidement ce qui nécessite d'en mettre régulièrement dans les skimmers.