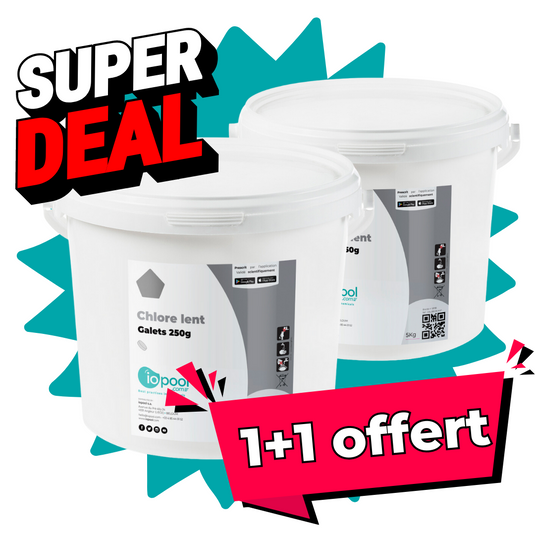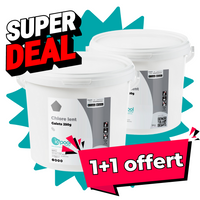 Why use slow chlorine
Use slow chlorine to keep your pool clean and healthy.
Slow chlorine keeps the necessary chlorine concentration for permanent water disinfection and prevents the development of algae.
Use it with our app
You can free download our application on Apple Store (IOS) or Play Store (Android). Then you can follow advice from our recommendation engine to know when and how you can use our chemicals products.
How it works
When it comes into contact with your swimming pool water, chlorine is released and creates sub-components:
Active chlorine whose disinfectant effects are active;
Potential chlorine, the disinfectant potential of which will gradually be released over time and will therefore be transformed into active chlorine;
Chloramine, produced during the degradation of organic matter by chlorine.
Main advantages
High chlorine concentration;
High chlorine grade quality;
Dissolves well;
Quality/price ratio;
Treatment efficiency;
Good friability.
Usage advice
Check if pH is between 7.2 and 7.6;
Clean the skimmer of all impurities;
Place the chlorine pebbles in the skimmer;
Activate water filtration.
Related blog articles
Find helpful tips, tricks, and information about chlorine on our blog.
Warning
Place chlorine pebble's inside the skimmer or in a floating diffuser;
DON'T put in direct touch with the swimming pool liner to avoid decoloration;
Use biocidal products with care, read the label and product information before use;
Authorization number n°2011 B;
This product is intended for the French market only.
le chlore lent a ce prix , impeccable !
rapport qualité /prix imbattable
expedition rapide et emballage soigné
Service d'expédition déplorable
Après quelques livraison de la part de Iopool, je me confronte à recevoir constamment des colis mal emballés (composition interne sous dimensionnée par rapport au contenu du colis), ce qui en résulte à des emballages de produit endommagés et du coup des produits détériorés (ce n'est pas la faute des livreurs!).
Jusqu'alors le service après vente a été au top mais je ne continuerai pas à devoir passer par eux.
C'est la dernière commande auprès de Iopool!
Sceaux explosé
Les deux sceaux complètement explosés. Certainement la faute du transporteur.
Iopool m'ont offert un code promo en dédommagement, je les en remercie.
Fond des Boites cassé
Bonjour, il y a un problème dans votre carton pour les expéditions. Il n'y a pas de protection dans le fond du carton. J'ai reçu mes galet mais les boites étaient ouverte dans le fond. le sachet de galet est sorti du sceau. quelques galets sont cassés. Le seul point positif c'est le respect de l'heure de livraison.