How to Choose a Pool Cover?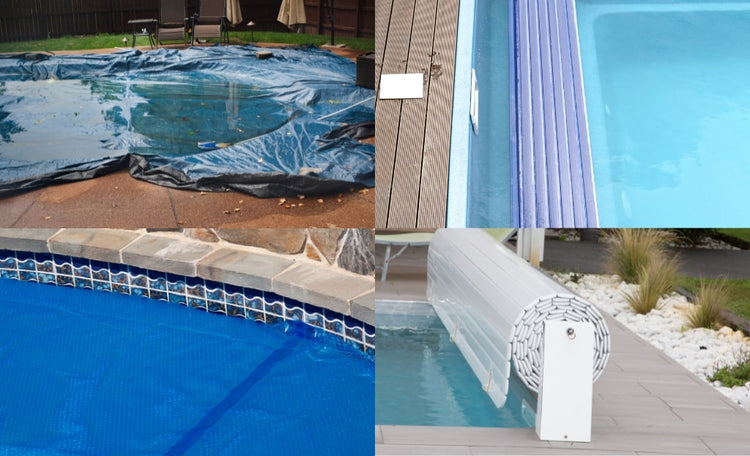 Nothing says warm weather like taking a dip in crystal clear water. However, this relaxing feeling may be short-lived if your pool stays uncovered. Not having a cover could turn your pristine aquatic oasis into a bacteria-ridden swamp. Not only that, but an uncovered pool poses safety risks for animals and children. If you have questions about pool covers, we've got answers. This quick guide outlines the basics - from the benefits to what to consider when purchasing one. Discover how to choose a pool cover.
Why do you need a pool cover?
Having a pool cover isn't absolutely necessary, but it would be silly not to invest in one. Here are some of the advantages of a pool cover:
Prevents debris and contamination
When your pool isn't in use, debris like twigs, leaves, and bugs can get into the water. This not only results in spending your afternoon skimming the pool, but debris could bring in harmful bacteria and algae spores. 
By covering the water, you can prevent contaminants from entering the water—thus saving time on cleaning and maintaining the pool. 
Reduces evaporation
Your pool loses water in many ways, but evaporation is the number one source of water loss. And keeping your pool covered could reduce evaporation. According to the EPA, an uncovered pool can lose anywhere between 12,000 to 31,000 gallons of water a year. 
Don't think water loss is a big deal? Evaporation costs time and money. Every time your pool loses water, you have to refill it and rebalance its chemistry. So you'll have to spend more money on chemicals, and your water bill could skyrocket. But you can avoid this inconvenience by getting a pool cover. 
Saves energy
Heating your pool water is not cheap. So why not retain some of that heat with a pool cover? This means you won't have to use your pool heater as frequently, saving energy and money. Also, some pool covers are even designed to collect heat and transfer it to your water, heating it naturally. 
Reduces chemical usage
UV rays degrade chlorine. But a cover prevents sunlight from eating your chlorine. This means you'll have to use less chlorine and spend less time adjusting your pool's chemistry.
Prevents accidents
Some pool covers serve as safety barriers that stop animals and children from falling in. These covers are designed with sturdy material and have specific weight limits.
In addition, depending on where you live, a safety pool cover might be required. For example, some states require homeowners or renters with a pool to use a cover to ensure the safety of children under six years old.
Types of pool covers
As you can see, there are quite a few advantages to getting a pool cover. But before you start searching for the right cover for your pool, you must know the difference between the types. Each serves a purpose that can address a specific need.
Solar covers
Solar covers are an excellent way to keep your pool covered and heated simultaneously. They're typically made with vinyl, polyethylene, or polypropylene—which absorbs heat from the sun and directs it to your water. These covers vary in colors, thickness, and sizes, and they are designed to fit both above-ground and inground pools. If you would like more information on how to keep your pond at a comfortable temperature, we invite you to read this article.
Safety covers
As mentioned earlier, a safety cover is made to prevent accidents. They're crafted from a solid or mesh material, and it has an anchor around them that keeps them sturdy. 
The type of safety cover you choose will depend on your preference. For instance, a lightweight mesh cover can support thousands of pounds. However, the material will allow rain and snow to fall into your pool, which could throw off the water chemistry.
A solid safety cover is heavier and has an impermeable surface, so it won't allow rainwater to enter your pool. But you will have to pump water off the top of the cover.
Automatic covers
With automatic covers, all you have to do is push a button, and a cover will roll on or off the pool. This process is convenient, but installation can be (very) expensive. Automatic covers can only be installed on inground pools.
How to choose ?
Think you're ready to finally purchase a pool cover? Well, there are some other things to consider—such as pool size and if the cover comes with a warranty.
Consider your pool size
To properly close your pool, the cover must be the correct size. For an inground pool, the cover should extend at least 3 inches past the pool's edge. So before you purchase a cover, break out your tape measure and record the dimensions of your pool. 
If you have an above-ground pool, take into account the pool's circumference. You can look at the owner's manual to get the measurements of your pool—no measuring required. 
Consider your pool shape
If you have a pool with a symmetrical shape, you won't have a problem finding a cover. However, you'll most likely have to get a custom pool cover for pools with unique designs. 
Also, a custom cover will cost a pretty penny, and installation won't be cheap either. But the benefits of having a pool cover outweigh the costs.
Think about the purpose of the pool cover
Think about the primary function of your pool cover. If you need something to prevent animals and children from wandering in the pool, a mesh cover is suitable. Don't have small children or animals, but still want to keep out debris and rainwater? Choose a solid cover. Want to keep your pool clean and warm? Opt for a solar cover. 
For multifunctionality and convenience, consider getting an automatic pool cover—they're safe, keep out debris and help preserve warm temperature. And you can get all of this with the push of a button.
Consider the climate in your area
If you live in an area with harsh winters and heavy snowfall, it's probably not good to get a mesh pool cover. Also, if your region gets a lot of sun, it's wise to invest in a pool cover that will trap the heat from the sun and prevent it from degrading your chlorine.
Check for a warranty
One indicator of a high-quality pool cover is an extended warranty. This means that the manufacturer is confident that their pool cover can withstand the elements. 
Maintain your pool's quality with a cover
As a pool owner, you know how tedious it is to achieve clear and clean water. But all of that arduous work could go to waste without a pool cover. In addition to that, covering your pool keeps the water at a toasty temperature and it increases your family and pets' safety. 
For more pool maintenance tips, visit our blog.
iopool store
Shop the essentials