Mustard Algae: How to Overcome It and Get Clear Water?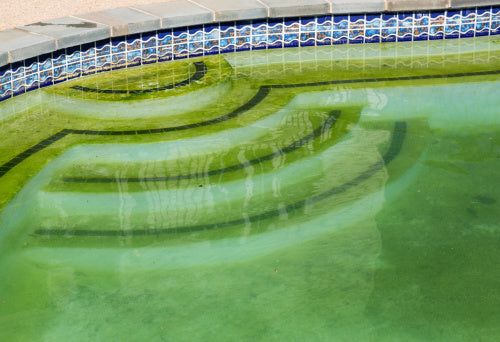 If you are dealing with mustard algae, it is likely to be difficult to get rid of. And that's normal, it is a tough process. Moreover, it tends to come back. Here are our advice.
What Is Mustard Algae?
These algae, native to the Sahara, are generally carried by the sand in the wind. These grains of sand carry with them germs that tend to settle on the walls of the swimming pool and develop there.
This type of algae is identifiable by its yellowish color similar to that of pollen. In addition, it tends to disperse when there is movement in the water, which makes it difficult to treat it with a robot. 
Even if mustard algae is not harmful to humans, its growth can attract harmful bacteria like e. coli. This is why you hould not underestimate it.
Prevention
The best way to prevent the development of algae is to carry out meticulous maintenance of your pool water. Indeed, if the recommended pH and disinfectant levels are respected and the filtration is effective, it will be much more difficult for any parasite to proliferate.
In addition, overwintering without filtration or treatment can promote the appearance of mustard algae. Nevertheless, the phenomenon of contamination takes place rather in winter than in summer in Europe.
Treatment of Mustard Algae 🔎
Unfortunately, the treatment of mustard algae cannot be done with products against green algae. Very often, the use of a shock disinfection product and an anti-algae is not enough. The algae will disappear, but will reappear very quickly. This parasite therefore requires specific treatment.
In order to prepare the treatment as well as possible, it is recommended to:
Make sure the pH level is between 7 and 7.4;
Wash your filter and use a clarification treatment to optimize filtration;
Clean every corner of your pond so that all the algae are mixed in the water and no longer placed on the walls;
Wash the area where the basin is located and its surroundings. Indeed, your terrace or your garden furniture may be covered with yellow algae germs, which could again contaminate the water in the pond ;
Wash all accessories that have been in contact with contaminated water: buoys, mattresses, robots, cleaning equipment to avoid any risk of contamination.
Once these steps have been carried out, you can use a mustard anti-algae as well as an oxidant which will boost the effect. Finally, all that remains is to wait a dozen hours to be able to bathe again.
iopool store
Shop the essentials