The Right Pool Size: Our Advice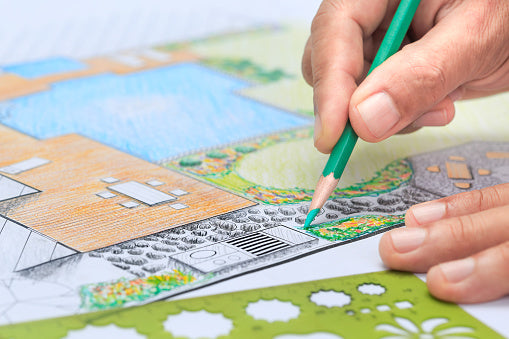 Choosing the right pool size can be overwhelming for first-time homeowners. Afterall, there are many factors to consider — such as the available space and zoning constraints. To make the decision-making process easier, we've supplied you with a guide for choosing the perfect pool size.
Measurements
Before we get into how you can choose the right pool size for you, let's talk about how measurements can help guide your decision.
Measuring in square feet is essential because the square footage of a pool takes into account the area of the pool, which is crucial for determining the amount of water it can hold, the cost of maintaining the pool, and the amount of space required for installation.
For example, a pool that measures 20 feet long and 10 feet wide has a total area of 200 square feet. However, a pool that measures 15 feet long and 15 feet wide also has a total area of 225 square feet, despite having the same dimensions as the first pool. This means that the second pool can hold more water and potentially accommodate more people than the first pool.
And the cost of maintaining a pool is often calculated based on its square footage, as larger pools require more chemicals, water, and energy to operate. The amount of space required for installation, such as the size of the pool deck, is also based on the pool's square footage.
Key things to consider
When you think of getting a pool, your might think about going big. But the biggest pool on the market might not fit your budget, lifestyle, or backyard space. Here are some things to think about when deciding on the perfect size for your pool:
Your backyard space
The size and shape of your backyard will play a big role in determining the size of the pool you can install. It also helps to check with your local residential pool requirements and regulations.
After you've done that, think about the available space you have. Smaller pools are best suited for quaint backywards and wider pools are ideal for homes with acres to spare. Also, be sure to consider the space for amenities like fire pits, lounge furniture, and outdoor kitchens.
Your surroundings
Think about existing constraints that limit your pool size. For instance, local zoning regulations may limit the size of the pool that can be installed your backyard. The soil and terrain of your backyard can also impact the size of the pool you can install. If the soil is unstable or the terrain is too sloped, it may be difficult or costly to install a sizable pool.
The location of utilities is another factor that impact the size pool you choose. If there are utilities or infrastructure in the way, it may be difficult to install a larger pool.
Your budget
Ultimately, the size you decide will depend on what you can afford — and there are many factors impact the cost. When you're crunching the numbers, consider the following:
Cost of installation:

Larger pools typically require more materials and labor, which can increase the installation cost.

Cost of maintenance:

Bigger pools require more chemicals, water, and energy to maintain.

Additional features

: In addition to the pool itself, you may want to add additional features like decks, landscaping, lighting, and water features. These features can significantly increase the overall cost of the pool.
Your lifestyle
If you're the type host social gatherings, consider getting a spacious pool. That way, your pool can comfortably fit guests. But if you have a small family and occasionally invite friends over for a dip, think about a small to medium sized pool.
Another thing to take into account is maintenance. Larger pools may be too much to handle for someone with a busy lifestyle. But if you can afford to outsource maintenance, then a bigger pool would be right for you.
The pool's purpose
Determine how you want to use your pool. For example, if you plan on using your pool for swimming laps, it makes sense to opt for a large, rectangular pool. And if you want something for recreational purposes, go for smaller pool with enough room for games.
The climate
In warmer climates, some people may prefer bigger pools to help cool off on hot days. And a grander pool can also help retain cool water temperatures for longer periods. In cooler climates, smaller pools may be more practical due to shorter swimming seasons.
☀️And pools exposed to direct sunlight can experience greater evaporation rates, requiring more frequent refilling and treatment. In areas with high sun exposure, smaller pools may be more practical to minimize water and maintenance costs.
What are the different types of pools?
You have a variety of pools to choose from and all are built for different activities and purposes. Here's a guide the different types:
Spool pool (50-150 square feet)
A spool pool is a small pool that has spa-like features. Spool pools are becoming increasingly popular as an affordable and space-saving alternative to traditional in-ground or above-ground swimming pools.
They are also relatively easy to install and can be placed in smaller outdoor spaces such as a backyard or patio. These pools are are typically used for relaxation, exercise, or cooling off during hot weather.
Cocktail pool (200 square feet)
A cocktail pool is a small, shallow swimming pool that is typically used for lounging and socializing rather than for swimming laps or other forms of exercise. 🍹
They are also popular for entertaining, as they provide a cozy and intimate space for friends and family to gather and enjoy cocktails or other refreshments (hence the name).
Play pool/standard pool (400 to 600 square feet)
A play pool is designed specifically for children and families to enjoy. Play pools are typically shallower than traditional swimming pools, with a maximum depth of around 3 to 4 feet, making them safer for younger children who may not be strong swimmers.
They are ideal for smaller outdoor spaces, as they can be designed to fit into a variety of areas, including backyards and smaller outdoor spaces like patios.
Diving pool (500 to 650 square feet)
A diving pool is made for diving and typically has a minimum depth of 8 to 10 feet in the diving area, as well as a diving board or platform. Diving pools are used primarily for recreational diving or for competitive diving events.
These pools are suitable for individuals who are interested in diving as a recreational activity, as well as for competitive divers who require a pool that meets certain size and depth requirements for practice and competition.
Lap pool (600 square feet)
A lap pool is made for (you guessed it) swimming laps. They're longer and narrower than other types of swimming pools, with a rectangular shape that allows for straight swimming in a single direction. They are used primarily for exercise and training, rather than for recreation or relaxation.
In addition to lap swimming, lap pools can also be used for other forms of aquatic exercise, such as water aerobics, aquatic therapy, and other low-impact workouts. They are also great for individuals who have limited outdoor space or who want a pool that is more focused on exercise than on recreation or relaxation.
Average pool price by size
Along with the size, the price of a can vary widely based on several factors including the type, materials used, and any additional features or amenities. Below is an rough estimate of the cost of a pool based on its size.
Inground pools
Small pools (up to 400 square feet): $25,000 - $45,000

Medium pools (400 - 600 square feet): $35,000 - $60,000

Large pools (over 600 square feet): $50,000 - $100,000+
Above ground pools
Small pools (120-177 square feet): $800-$1,800

Medium pools (254-500 square feet): $1,900-$3,500

Large pools ( over 500 square feet): $4,000-$5,500
⚠️Again, please note that these are just estimates and that the actual price may vary depending on many factors. We recommend you get quotes from different pool installers in your area for a more accurate idea of the cost.
Ultimate checklist for choosing the ideal pool size
To ensure you don't miss a step in your pool buying process, we created an actionable checklist.
Step #1:

Assess your needs

Step #2:

Consider your budget

Step #3:

Evaluate your backyard space

Step #4

:Determine the pool's shape:

Step #5:

Consider the number of swimmers

Step #6:

Think about the pool's depth

Step #7:

Consider maintenance and cleaning

Step #8:

Check local regulations

Step #9:

Research pool contractors

Step #10:

Consider the long-term costs and maintenance
Your perfect pool awaits you
Choosing the right pool size is an important decision that requires careful consideration of various factors such as the available space, budget, intended use, and personal preferences. Ultimately, the size of the pool that you select will have a significant impact on your pool experience. So take the time to weigh all the options and make an informed decision.
iopool store
Shop the essentials