Above-Ground Pool Kits: Which One Should I Choose?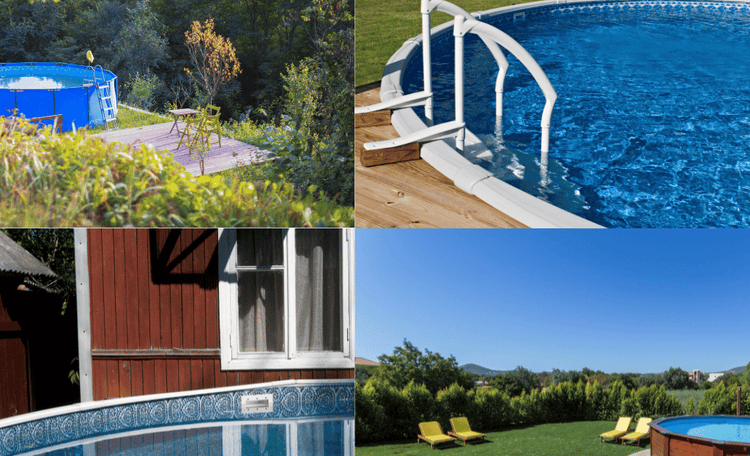 Above-ground pools are a great alternative to inground pools. With the large range of above-ground pool kits on the market, it's easy to get overwhelmed. We're here to help you decide which pool kit to purchase.
Intex Ultra XTR Frame
The Intex Ultra XTR was designed to give your family the ultimate pool experience as if you're using an in-ground pool. 
They're also built for longevity with their durable 3-ply liner. The liner on this frame combines high-strength polyester and mesh. This makes it 50 % more resistant to tears than regular Intex Metal Frame pools.
Its steel frames provide robust protection against rust with protective coating inside and out.
Hydro-aeration filtration systems also help keep your pool water clean. But you may still need additional pool cleaners — we'll get more into pool cleaning further in this article.
Pros
Long-lasting materials;
Easy to assemble;
Large enough for multiple people to swim;
Provides the experience of an in-ground pool;
Efficient filtration and sanitation system (Krystal Clear filtration);
2-year warranty on the pool liner, frame, and filter pump;
Ready for water in 45 minutes.
Cons
More expensive than other pool frames;
Must be placed on a level surface.
Intex Metal Frame
Wanna make a splash this summer with the kiddos? The Intex Metal is a great option. Priced under $200, it's also one of the more affordable kit.
Not to mention, the setup is straightforward and requires minimal maintenance. However, the filter included is not that efficient. You'll have to keep up with good chemical maintenance.
Pros:
Affordable;
Straightforward assembly;
Metal beams provide stability;
Takes 30 minutes to fill.
Cons:
Needs more chemicals to sanitize;
Doesn't hold heat — may need to purchase a pool water heater;
Filter doesn't prevent algae.
Intex Prism Frame 
The Intex Prism Frame is similar in construction to the Metal Frame. However, this pool is made with a tough 3-ply liner and strong powder-coated steel tubing. Therefore, this kit provides greater longevity and reduces the risk of punctures.
A reinforcement band holds the pool's frame in place for enhanced stability. Assembling is straightforward, so no pins or tools are required.
Hydro-aeration technology provides adequate circulation. But you may need to use additional chemicals and pool cleaners to keep the water in pristine condition.
 Pros:
Affordable;
Available in multiple sizes;
Rust-resistant steel poles;
Easy to assemble;
Strong sidewalls;
Great for large families.
Cons:
Doesn't include a skimmer;
Filter doesn't prevent algae;
Cover doesn't help prevent debris.
Bestway Pro Max Frame
Bestway is another brand that delivers high-quality pool supplies. The Pro Max Frame is comparable to the Intex pools we've discussed. 
But the main difference is that the Bestway doesn't have an aerating filtration system. So this may affect the quality of your pool water.
The Bestway Pro Max is easier to set up than the other pool kits on this list. The structure uses oval beams, and the liner drapes over. And the pool is reinforced with a triple-layered support band.
Finally, this Bestway pool kit includes a chemical dispenser located between the filter and pool wall. This makes the job far easier.
Pros:
Automatic chlorine dispenser;
Easy to assemble — no tools required;
Durable steel frame and liner;
Includes a chlorine dispenser.
Cons:
Expensive option for some people;
Frame pipes are not rust-resistant;
Underpowered pump and filter.
Bestway Hydrium Poseidon Frame
Hydrium pool kits are Bestway's top pool products. Like the Intex Ultra Xtra pool, the Hydrim is available in round and rectangular shapes. However, the Hydrium offers a greater variety of dimensions and depths. 
Bestway pools include a Flowclear pump. And the filtration system helps keep the water clean. Nevertheless, its sanitation power doesn't compare to Intex filters. 
You can always supplement the filter with a more high-powered one. You can also invest in a robotic pool cleaner.
Pros:
Straightforward assembly;
Rust-resistant frame and walls;
Sand filter pump included;
Skimmer included;
Tough 3-ply liner;
Variety of depths and dimensions.
Cons:
May not remove all debris and prevent algae;
Not affordable for some people — especially if you purchase an additional filter and pump.
Must-Have Accessories for Above Ground Pool
Above-ground pool accessories generally fall into three categories: pool maintenance, water circulation, and safety needs. Here are a few essential tools to consider:
For Pool Maintenance
A Robotic Pool Cleaner
Keeping your above-ground pool clean is hard work. A robotic pool cleaner does most of the heavy lifting for you. Automatic pool vacuums help eliminate dirt, algae, and debris. All you have to do is rev it up and watch it go.
A Pool Monitor
A pool chemistry monitor is another way to make pool maintenance more manageable. The iopool EcO pool monitor provides treatment advice and allows you to monitor chemical levels all from your mobile phone.
For Water Circulation
Above Ground Pool Pump
If you need one, a 110v pump is perfect for above-ground pools. You might also want to get a pump that includes a large strainer basket or reinforced elements, making maintenance easier.
For Safety
SunnyTent Pool Cover
You could opt for the typical tarp, but these pool covers are prone to punctures and don't help absorb heat. 
The SunnyTent serves as a safety pool cover, while keeping it from cooling. This pool dome captures heat from the sun and transfers it to the water.
Conclusion
Both Intex and Bestway pool kits are pretty close and deliver excellent above-ground pools and accessories. However, there are some elements that you may have to add — i.e., the pool pump and filter. 
The type of pool kit you choose depends on your budget and personal preference. 
Whatever pool kit you choose, don't forget to buy good quality chemicals. Our shop has everything you need to balance your pool's water chemistry.
iopool store
Shop the essentials