Pool Designs Ideas From 10 Insta Pictures You Will Love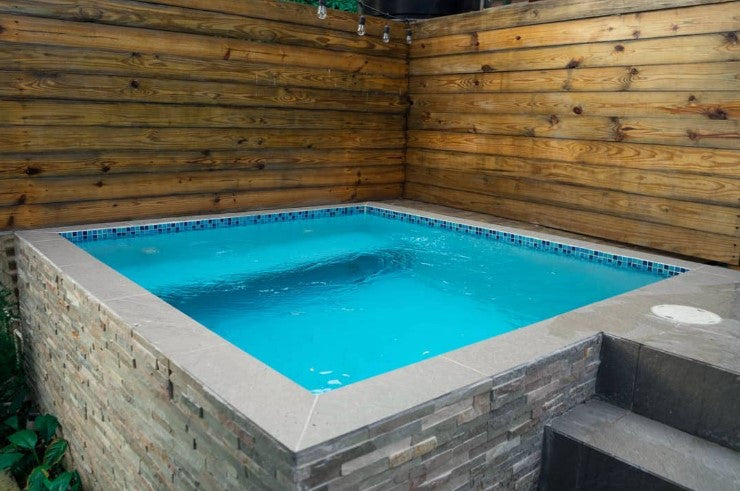 Looking for a nice above-ground pool design? Well, if the answer is "yes", this article is for you. It will inspiring you with above-ground pool ideas you can re-use for your next pool.
1. Squared above-ground pool
First idea : squared above-ground pool with grey brick walls. That perfectly matches with the color of the stairway. Private and cosy as much as possible.
Link: https://www.instagram.com/p/CI79kFplwst/ 
2. Rectangular pool on grass
The second above-ground pool design is quite different (but also requires more space). The pool is rectangular and lies on the grass. This is a mixed design with a modern bay windows and a rustic touch thanks to the old stone walls.
Link: https://www.instagram.com/p/CFRAcVRFfmA/ 
3. Circular above-ground pool
This circular above-ground pool looks like a spa due to its shape and size. It's built in a tiny backyard and the design is sober. This project is perfect for you if you have not much space or a large budget.
Link: https://www.instagram.com/p/CKf7v-bFunL/ 
4. Garden rectangular above-ground pool 
This above-ground rectangular pool looks more traditional. The pool is built directly in the garden, next to the terrace. This pool is really nice for your summer parties. The walls are made with a light colored wood that brings some brightness to the garden.
Link: https://www.instagram.com/p/BN9yFXrhhIg/ 
5. Modern container above-ground pool
Let us turn now to this original and modern above-ground pool layout. A nice terrace extension. The walls of the pool are grey, and this creates a cool match with the rest of the terrace. The walls look like a container, which makes its design quite original and unique!
6. Circular garden above-ground pool 
This project brings us back to the circular above-ground pool. However, this one is quite bigger than the previous one. This one is quite easy to install as the walls are made of plastic. Which makes it probably the most effective and affordable pool to make your family happy for a few summers.
Link: https://www.instagram.com/p/CBOfOf3pDB2/ 
7. Circular pool with metal structure
With this pool, we stay in the range of plastic materials products. However, this pool has a metal structure to make it more resistant.
This is the perfect example of a layout that does not require a great budget, but still has a great look. A small fountain, hanging lamps will allow you to spend the best summer evenings with your friends.
Link: https://www.instagram.com/p/CDXL5lIpbuS/ 
8. Design above-ground pool 
With this eighth realization, we are moving to a higher range of above-ground pools. As you can see, the design is modern and the colors are light, which creates a bright atmosphere.
The pool and a terrace are perfectly connected to each other. The walls of the pool are realized with light grey tiles, which make it simple and elegant.
Link: https://www.instagram.com/p/CAyY8-TDG8p/ 
9. Wooden oval pool 
This oval above-ground pool has been built on the grass, just in the middle of the garden. Concerning the pool walls, you could imagine anything convenient to you, as they are not visible. The design looks rustic with a dark wood. The stairway that encircles the pool makes it look like an arena, which is unusual and original. Once again, it's a great solution if you want to keep it cheap.
Link: https://www.instagram.com/p/B14B1A9hYWY/ 
10. Before/after mini-pool project overview
Finally, here is a before/after project overview to underline the fact that every single place can be changed in something beautiful. This above ground-pool is not big at all, which is something positive for the customer who does not want to invest too much money. Anyway, it still looks amazing with the design given by the grey brick walls, the fountain, and the stairway with its colour that perfectly matches the pool walls.
Link: https://www.instagram.com/p/B_yoHcmleP4/ 
You want more inspiration about above-ground pool ideas? You should follow us on Instagram!
You have find the perfect pool design in this article? Nice! But don't forget, have a pool is nice, but have a pool with clean water is nicer. A good reason to take a look to EcO, a connected probe helping keeping your water safe.
Still have pool-related questions?
Our blog is full of other articles!
iopool store
Shop the essentials