Automate Your Pool Maintenance With Jeedom and iopool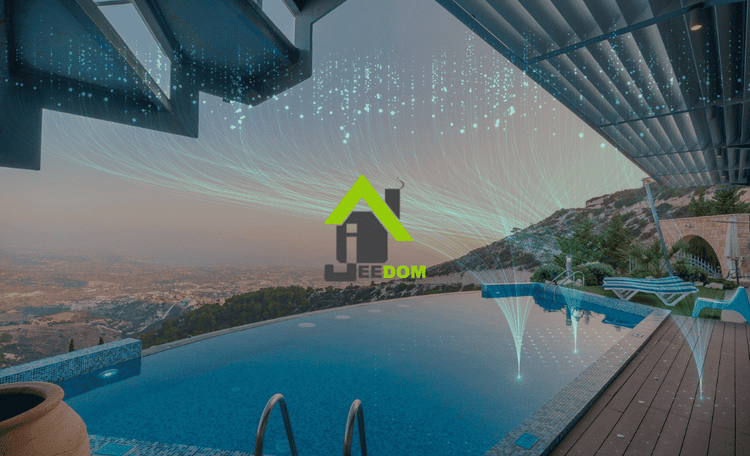 Whether you want to quickly adjust the water temperature or schedule filtration, pool automation has you covered. The benefits and convenience of pool automation systems are unparalleled, and you can now experience everything it offers with Jeedom. Keep reading to learn how to use smart control systems to automate your pool maintenance with Jeedom and iopool.
What is Pool Automation?
With pool automation, there's no need to flip on every function individually. Want to turn on your pool's heater? You can do it from an app.
Pool automation centralizes all of your pool's equipment into one control panel. A few things you can control with an automated system include:
Heater;
Pump;
Water chemistry;
Filtration/sanitation;
Lighting;
Water jets.
What's also great about automation systems is that you can install them on any pool type—from in-ground to above-ground pools.
What are the Benefits of Swimming Pool Automation?
Swimming pool automation systems make things easier. In what ways exactly? Let's go over some advantages of a pool automation system:
Straightforward Chemical Maintenance
A pool automation system eliminates the need to constantly adjust and test your pool's water chemistry. Instead, you can program your system to target your pool's needs.
Complete Remote Control
The beauty of automated systems is that you can operate multiple functions from anywhere. For example, you can turn on your pool's lighting from the comfort of your couch. Want to heat your pool's water before you get home? It's possible with an automated system. Since pool automation is controlled via your phone, you can control functions instantly within a high range.
Reduced Energy Use
Water and electricity are expensive. Not to mention, wasting both impacts the environment. However, pool automation allows you to use less energy. 
For instance, you can install a variable-speed pump control with an automation system. This way, you run your pool's equipment only when necessary—which helps save electricity and water. If you want to know more about how you can save energy, check our dedicated article.
Why Do You Need Pool Automation?
Pool automation fits a variety of scenarios. Here are a few ways you can get the most out of your system:
Vacations
You can use automated settings to maintain your pool while you're away on vacation. For example, you can set up a "vacation" function that keeps your pool at a stable temperature and triggers filtration. So when you come back from vacation, your pool will be in perfect condition.
Day-to-Day/Seasonal Use
You can also set your pump to operate at lower speeds at certain times of the day—like during off-peak swimming hours. Automation systems also allow you to set profiles for specific seasons. For instance, you can set a "winter" profile to warm your pool to the right temperature.
Social Hours
Got friends coming over in a few minutes? Pool automation lets you quickly set the mood. You can warm your pool, fire up the jets, and turn on the lights all from your phone. 
How to Automate Your Pool Automation With Jeedom
🙋 A
Jeedom plugin
has been developped by Marc G., one member of iopool community. However, the documentation is only available in French for now. If you want a English translation, let us a comment below the article.
First, you need one EcO Smart Pool Monitor with an official iopool gateway (or one old phone). Jeedom is free, open-source software that can be installed on any Linux system. Once integrated with the iopool app, you can access valuable data about your pool and automate a lot of things. 
To reap the benefits of iopool and Jeedom, you will need an API key linked to your iopool account. 
Make Your Pool Maintenance Easier With Jeedom and iopool
If you're looking for ways to simplify your pool maintenance, consider integrating iopool and Jeedom. Automation with Jeedom allows you to create a convenient control center for a smooth swimming experience.
Do you want to connect iopool and Jeedom? More information and resources are here.
iopool store
Shop the essentials