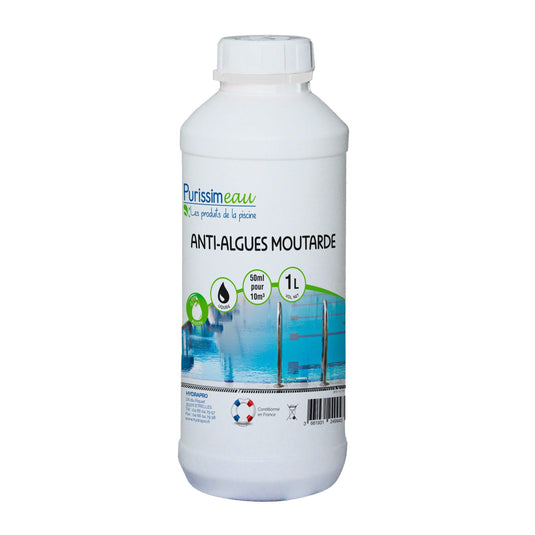 Why use Anti-Mustard Algae
This Anti-Mustard Algae product is an easy and effective solution for treating and removing mustard algae from swimming pools. It must be combined with chlorine treatment. The mixture of these two products generates active bromine for action against mustard algae (yellow) which settle on the bottom and the walls of the pool.
Packaging: 1 liter.
Usage advice and dosage
With just 90 mL of product in 10 m3 of water, it helps eliminate mustard algae, making it the perfect choice for pool owners looking for an effective solution.
It must be combined with chlorine treatment.  
Advantages
Compatible with all types of treatments except PHMB;
Product packaged in France.
Warning
Use biocides with care;
Incompatible with PHMB;
Read the label and product information before use;
The photos and colors of the products are not contractual.
Toujours rien reçu, je trouve ça inadmissible.
Très efficace
Utilisé l'an dernier . Effets très rapides et efficaces.
Pas encore eu besoin avec ma dernière commande .Je l'utiliserai pendant l'été
Efficace
Bonjour
Le produit semble efficace pour en venir à bout de ces algues 🥵😡!! En revanche j'ai suivi les conseils qui disaient de coupler avec le chlore pour augmenter l'efficacité. Cela fonctionne. Avec les épisodes de forte chaleur elles avaient tendance à revenir j'ai retraité à nouveau. Coupé avec l'aspiration de la pompe et du floculent ça part ! Faut pas baisser les bras !