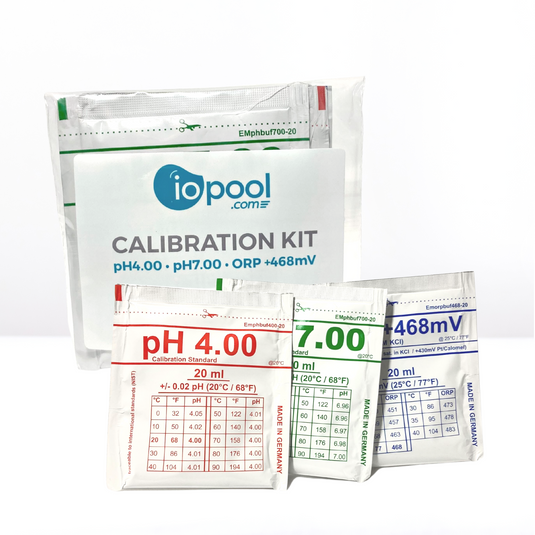 EcO calibration kit
The iopool calibration kit is a set of buffer solutions, which allow you to accurately calibrate the pH and ORP sensors of your EcO Smart Monitor.
Kit content
1x pH 4.00 calibration solution (20ml)

1x pH 7.00 calibration solution (20ml)

1x OPR +468mV calibration solution (20ml)
Calibrating the EcO allows the analyzer to adjust to wear and tear on the electrochemical probe and thus take more accurate measurements, longer.
When to calibrate your EcO?
There is no need to calibrate before first use.

From the second season on, it is recommended to calibrate at the beginning of each season.
NB: If your Eco is never winterized (indoor pool, spa, Nordic bath,...), we advise you to calibrate every year.
How to perform the calibration?

Take the EcO out of the water, remove the silicone cap, and rinse the sensor with clean water.


In the iopool app, go to "My pool/spa > Devices > EcO" press "Calibrate my EcO" and follow the steps in the application carefully.


Once the calibration is complete, replace the silicone cap in the test position and put the EcO back in the pool or spa.
Calibration de ma sonde
Bonjour merci pour votre envoi
J'ai recalibrée la sonde les deux premières relevés impeccable puis PH 7.3 ET 7.6
Et les relevés suivants chute à 5.3 !! Problème avec la sonde qui doitavoir une petite défaillance . Cela ne découragera pas de vous recommander une nouvelle sonde pour 2024 .Toujours satisfait de vos sondes
Merci pour vos conseils
Sonde recalibree , à voir sur la durée avec cette sonde reconditionnée
Calibration efficace
Il a fallu la faire 2 fois mais au final super
decevant
une demi heure de calibrage pour une première analyse totalement erronée. Idem pour les trois suivantes...
Échec complet. Rien ne marche plus !!
Je n'ai jamais pu me connecter
Dommage jusqu'ici j'étais très satisfait du matériel et des services
Nul
Impossible de faire la calibration bug application
Belle boutique gestion de la commande bizare
En relisant ma commande je me suis aperçu que payant avec PayPal la ville était pas bonne et c'était le département.
Mon colis a été expédié avec mondial relay dans un relai à 3km de chez moi