How to Successfully Restart Your Pool When Winter Is Over?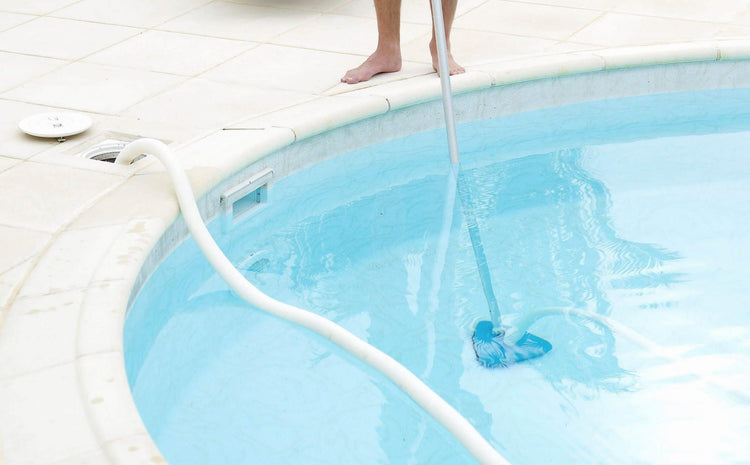 Sunny rays hit again: it is time to get your pool back up! There is a good way to do so. But how can you successfully restart your pool after winter? That is exactly what this article is about.
When to restart your swimming pool after winter?
The wintering of your swimming pool must be carried out as soon as possible. It takes place after the frost season and before the water in your pool reaches 12°C. Indeed, above these temperatures, bacteria and microorganisms begin to proliferate. This can cause algae and fungi.
Sébastien, our swimming pool expert:
"If you have a salt chlorinator to disinfect the water: do not use it before the water temperature reaches 59°F! Otherwise, you will damage your cell… Use chlorine tablets for disinfection until your water has exceeded 59°F."
The opening of a pool generally takes place between mid-March and the end of April. If well done, you should not find any visible algae in your pool.
Types of "de-wintering"
There are two types of wintering: active and passive.
Passive wintering is closing and shutting down the pool during the winter. Preferred in areas subject to frost, secondary residences and mandatory for above-ground pools;
Active wintering consists in idling the pool during winter. Preferred in areas with mild temperatures in winter. Simpler than passive wintering.
Milestones
NB: If you completely shutted your pool down, go directly to step 6.
If your pool is equipped with:

a roller shutter, open it and clean the apron with water. Banish the high-pressure cleaner to preserve the shutter blades ;
a standard winter cover: remove and clean it with a water jet. Once dry, fold it up and store it dry.

Remove the "gizzmo" from the skimmers and the wintering caps from the return nozzles/brush sockets. Remove the line of wintering floats.
Fill the pool until the level reaches half of the skimmer.

If you have a cartridge filter(s) : Replace clean filter cartridges.

Restart the filtration pump and wash the sand filter.
Run the vacuum cleaner or cleaning robot through the the bottom of the pool.
Check the TAC (Complete Alkalimetric Title) and the TH (Hardness) of your water. More info in our dedicated article.
Set your pH level between 7.0 and 7.4.
Wait 48 hours after shock chlorination while turning the filtration on. Perform a treatment with slow chlorine tablets/rollers or start your automatic disinfection system.
Clean the water line using a dedicated cleaning product.
You can now enjoy sunny days! If you want to know more about winter pool care, this article might be for you.
Sébastien, our swimming pool expert
The free iopool mobile application assists you when opening your pool. Thanks to the connected EcO monitor, the app gives you the quantities of products to use.
iopool store
Shop the essentials