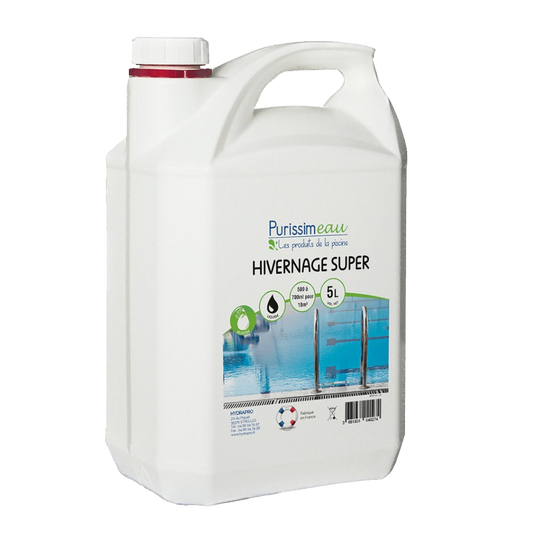 Why use Wintering Super liquid
Wintering Super is a product that prevents the formation of algae and limescale deposits during the winter. This product should be used when the water temperature is below 16°C. Wintering Super is compatible with all types of pool treatments, linings, and filtering systems. It is guaranteed free of copper sulfate, EDTA, and polyphosphates.
Advantages :
Concentrated winterization;
Non-foaming product;
Product made in France.
Usage Advice
Dosage: 500 to 700 mL for 10 m³;
In the spring, discover the pool as soon as the weather is nice and start the normal treatment again.
Warning
Use biocides with care;
Read the label and product information before use;
The photos and colors of the products are not contractual.
Tres bon Produit d Hivernage
Demande renseignements
Bonjour pouvez vous m'indiquer la procédure d'utilisation du produit calibration kit ph je voudrais le faire ce week-end merci d'avance. Cordialement, christian Dioné
Désolé, j'attends encore un peu que l'eau soit inférieure à 16* en fin d'après-midi
Reçu dans les temps et utilisé avant hivernage
Le bidon est arrivé en bon état malgré colis légèrement abimé.
Délai de livraison respecté avec Mondial Relay.
Produit d'hivernage ajouté à la piscine avant de la fermer pour l'hiver. Nous verrons au printemps si il a conservé l'eau propre merci
Excellent produit d'hivernage
Produit confirme à la description. Livraison sans encombre en 3 jours ouvrés. Parfait pour ma piscine hors sol de 17m3.
Commande pas reçue
Commande pas encore reçue à ce jour alors que d'habitude la livraison est rapide