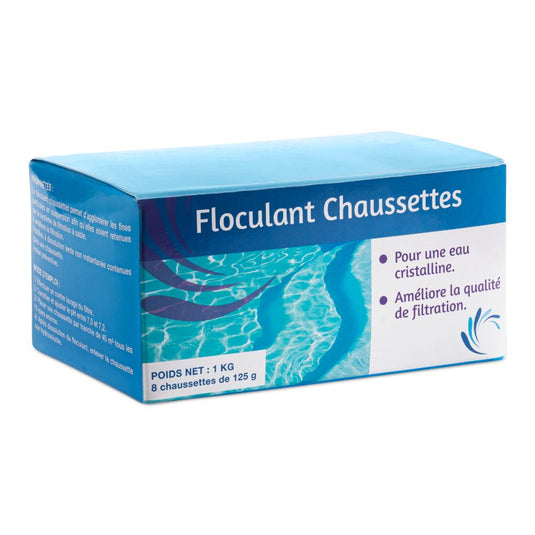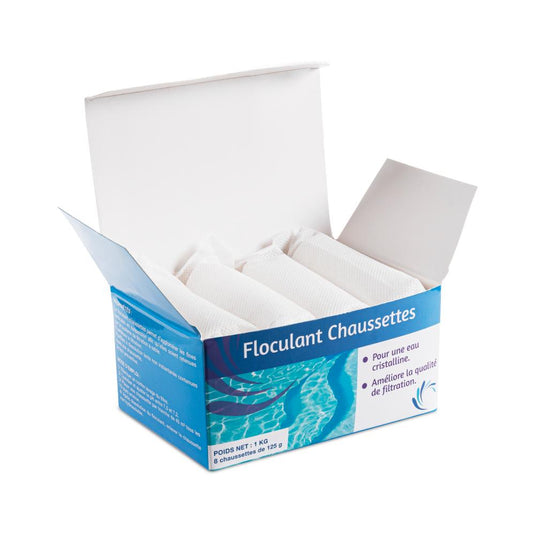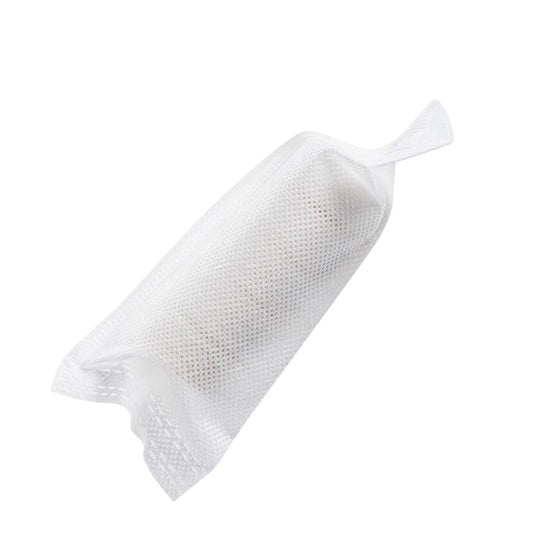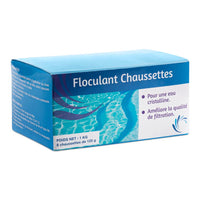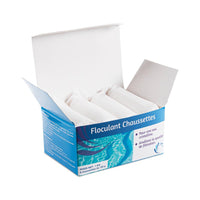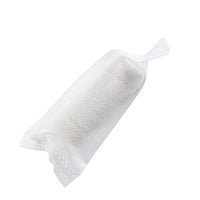 Why use clarification socks
The clarification socks (also known as a flocculant) improve the filtration of swimming pools equipped with a sand filter, ensuring long-lasting flocculation and crystal-clear water in your swimming pool.
How it works
When it dissolves in water, the iopool clarification sock allows fine particles to agglomerate, allowing it to be evacuated through your swimming pool's filtration system.
These are slow-dissolving flocculant tablets packed in a 125 g sock.

Main advantages
High

clarification sock

 grade quality;
Dissolve well;
Improves water filtration which allows to reduces the amount of disinfectant.
Usage advice and dosage
Apply the 

clarification sock

 at the level of the delivery nozzle of your swimming pool, so that it benefits from the water flow to distribute itself quickly. The 

clarification sock

 can then create agglomerates with the suspended matter in your water which can then be retained in your filtration.
1 sock in each skimmer or 1 sock for 40 to 50 m³ of water.
Warning
DON'T use

clarification socks

 if you have a cartridge, diatom or zeolite filter as it could clog it irreparably, and anyway the flocculation is unnecessary given the fineness of filtration.
Clarification socks (125gr sock) - 1kg
Clairement une amélioration
J'ai déjà utilisé ce produit l'an passé et la filtration fonctionne vraiment mieux… l'eau est plus limpide !
Clarification socks (125gr sock) - 1kg
Pas de réussite
Bonjour je n'ai pas réussi à clarifier mon eau de piscine comment faire
Clarification socks (125gr sock) - 1kg
Super efficace
Facile à utiliser, pour ma piscine de 55m3 d'eau, 1 chaussette suffit pour une 10aine de jours.
Mon filtre est au verre.
Ras produit conforme au attente
Moi mon eau étais vert voir noir! avec un volume d'eau de +/- 7m3 (vider de moitier pour hivernage) re remplissage de la diff. 7m3 au total 14m3, après avoir fait un traitement clore choc mon eau est devenue trouble (blanche) après verification de la chimie de mon eau (bandelettes) clore,ph,saturation de l'eau,... est ras de ce côté là! Sinon cela ne sert a rien de traité avec les chaussette, elles on fonctionné nickel (j'en ai mi 2) avec aussi une bonne filtration au verre de 10m3 j'ai récupéré mon eau de piscine comme pour un premier remplissages dommage que l'on ne puisse joindre une photo.
Bon bref complètement satisfaits de mon achat, voilà !bon produits! ( il fait ce qu'on lui demande )! Par contre pour ce qui est de la livraison c'est autre chose!.