9 Pool Trends to Level Up Your Home's Appeal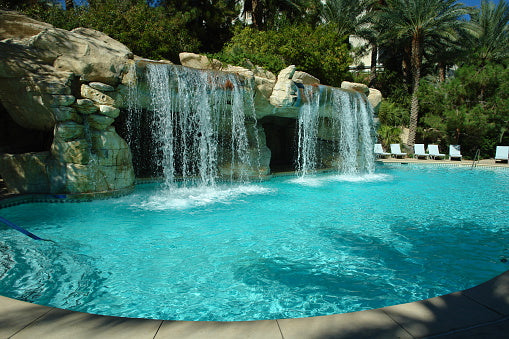 Pool trends are moving away from the traditional bean-shape, rectangle square. Now you have many options for transforming your pool. But which upgrades are worth the money? We answer this question and more. Keep reading to find out the latest pool design trends.
All the pictures are from Pixnio
Why should you consider a new pool design?
A new pool design gives your outdoor area a modern look. It serves as the perfect backdrop for hosting or inviting the neighbors over for a dip.
Better functionality
New design schemes incorporate features that improve the pool's function. For instance, smart functions let you control your pool's lighting, temperature, and maintenance from your phone. Smart pool technology also monitors your pool's chemical levels and sends you alerts when there's a hazardous imbalance (visit our website to discover EcO, Smart Pool Monitor).
Increased safety
Some designs also enhance your pool's safety with fences and automatic covers. Special underwater lighting also makes the pool water more visible at night, making it safe for a nighttime swim.
Energy efficiency
Today, there's an emphasis on energy efficiency. Most trends incorporate LED lighting, which uses less energy than traditional ones.And more modern pools also incorporate solar heating, which saves on heating costs and reduces your carbon footprint.
Personalization
Choosing a new pool layout lets you personalize your outdoor space to suit your lifestyle. For instance, a swim-up bar is perfect if you love to entertain. And a waterfall feature is great for those wanting a tranquil or spa vibe.
9 pool design trends
If you're looking for new ways to optimize your pool, check out these trends. From waterfalls to pool lighting these small tweaks elevate your swimming experience.
1. Infinity pools
Infinity pools have one or more walls that meet the water level exactly.  In fact, they date back to the 1950s and were popularized in the 1990s. Today, infinity pools are a fixture in luxury resorts and hotels.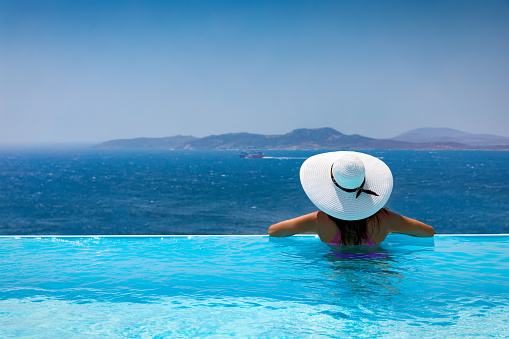 Some homeowners have incorporated these beautiful pool designs. Infinity pools are lauded for their aesthetic appeal — with the water seemingly flowing over the edge of the pool. Infinity pools also provide a stunning view of the surrounding scenery, like mountains or a skyline. 
Consider getting an infinity pool to add a luxurious and modern feel to your outdoor space.
2. Spa-like pool functions
Why go to the spa when you can bring the spa to you? Upgrade your pool with features such as massage jets and aromatherapy. Powerful jets replicate the spa experience by creating bubbles that soothe sore muscles.
You can add essential oil diffusers that amplify relaxation. Floating diffusers float on the surface of the water and release a scented mist into the air. But if you want something more discreet, consider wall-mounted diffusers, which release scent through a small vent or fan.
3. Vacation destination at home
More and more homeowners are opting to recreate vacation destinations at home, taking inspiration from places like Bali, Maldives, and Maui.
If you're wanting to transform your space into a tropical hideaway, start with these creative elements:
Greenery: Plants create an inviting atmosphere and give you the impression of being on a lush jungle-like island.
Stone: Natural elements like stone give your space an authentic look — and it can withstand wear and tear.
Fire: Fire pits add some coziness to your outdoor space and will encourage guests to linger past sundown.
4. Swim up bar
Ever want a drink without having to get out of the pool? Well, with a swim-up bar, you can grab a refreshment without stopping the fun. You'll notice this feature in many resorts and hotels, but it can also be installed in residential pools.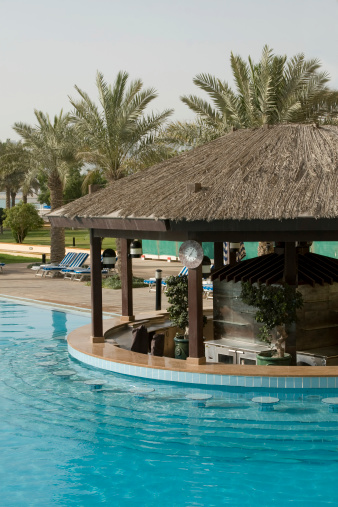 Not only will a pool bar add convenience, but it makes entertaining guests easier. It's a great spot for people to meet and socialize. It also adds a level of sophistication to your pool area.
The cost of a swim-up bar depends on the size and complexity of the bar, but it can range from $8,000 to $30,000. Although the price may be steep for some, it's a worthy investment. A swim-up bar can increase the value of your home — especially if you live in an area where outdoor living spaces are sought after.
5. Built-in tanning ledge
Get a warm glow before you swim with the tanning ledge. This involves taking the shallow end of your pool and constructing a space to relax. A tanning ledge also lets you enjoy the water without fully submerging yourself. It's also the perfect spot to play with family and pets not ready to take a full dip.
This pool design trend is a visually appealing addition to your outdoor area. There's no limit to the ways you can customize this space. You can add fountains, submergible furniture, small tables, and umbrella holders. 
⚠️ Sun exposure is not recommended between 11 am and 4 pm
6. UV Water Treatment
This trend doesn't necessarily add to the aesthetic of your pool area, but it does improves the feel of your pool.
Ultraviolet light purification cleans your pool without chemicals. Since the light does most of the disinfecting work, you won't have to use as many chemicals. Indeed, after UV sanitization, the water is clean enough to drink (we would not recommend that, though). 😉
Although the UV light does most of the work, it isn't a 100 % chemical-free system. You will still need to use chlorine to keep bacteria at bay. 
7.Enhanced pool lighting
Lighting is a small modification, but it can make a huge difference in your pool's ambiance. Today, you have more options that go beyond the typical submerged pool lights. New pool design trends incorporate LEDs that offer brighter displays and changeable colors.
But you can go beyond the lights inside the pool, here are a few ideas:
Highlight specific features of the pool, such as waterfalls, fountains, or landscaping.
Create a welcoming atmosphere with warm lighting — or set a fun mood with colorful lights.
Illuminate the border outside the pool by adding lights to the deck or patio.
Bring attention to greenery, fountains, and statues with focal lights.
8.Colorful water
Bet you didn't know you can change the color of your pool water. Customize your water to any hue of blue with pool dyes and pigments.
You can purchase dye in powder or liquid form and pour it directly into your pool. However, we would not recommend doing that. Add colour to your water using inner colourful lights for example. 
9.Waterfalls
Turn your ordinary backyard into an oasis with a waterfall. It's the perfect way to instantly create a serene environment, and it amplifies the relaxation factor. Not only does a waterfall wow other swimmers but it could impress homebuyers. Waterfalls can boost property value and make it more appealing.
💡 Another added benefit of waterfalls is improved air quality. A little-known fact about waterfalls is that they produce negative ions, which help neutralize allergens and pollen in the air.
Make a splash with these pool design trends
The ways to refine your pool experience are endless. Don't be afraid to step out of your comfort zone and play around with one or more of the trends we've mentioned today.
Any comment or new ideas on this topic? Feel free to hit the comment section!
iopool store
Shop the essentials