Chlorine... lies not only in your Pool!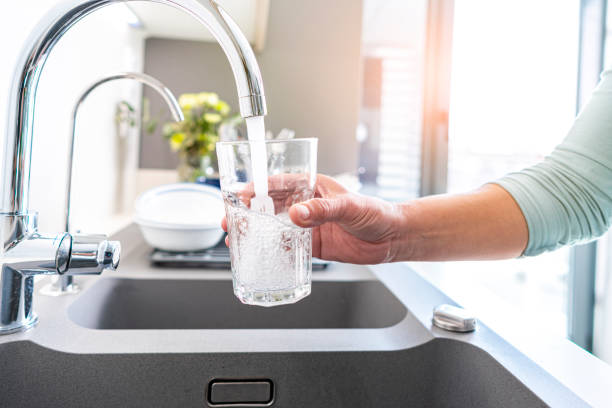 You know there's chlorine in your pool water, but chlorine in your drinking water? Yes, it's a thing. Chlorine is essential for removing harmful germs and contaminants in your water. But sometimes levels can get too high and cause problems. Today we answer your questions about drinking water with chlorine.
Is chlorine in drinking water safe?
Chlorine is commonly used as a disinfectant in drinking water treatment plants to eliminate harmful pathogens such as bacteria and viruses. Adding chlorine to water has been key in preventing waterborne diseases. But despite this, some people may still have concerns about the safety of chlorine in drinking water.
Too much chlorine in drinking water can have potential health effects, but the risks are generally considered minimal at the levels used in water treatment.
The U.S. Environmental Protection Agency (EPA) regulates the maximum allowable concentration of chlorine in drinking water to be 4 milligrams per liter (mg/L). The WHO Guidelines and EU Drinking Water Directive set the limit at 5 milligrams per litre of water. This level is considered safe for most people and has been shown to be effective at removing germs.
What are the health risks of drinking tap water with chlorine?
Although drinking tap water treated with chlorine is considered safe, some people may be more sensitive to the effects of chlorine — especially those with asthma or other respiratory conditions.
Chlorine can react with substances in the water to form byproducts such as trihalomethanes (THMs), which have been known to exacerbate asthma symptoms.
 THMs have also been associated with the following health concerns: Reproductive and developmental issues, increased risk for colon and kidney cancer, pregnancy complications and birth defects in infants, food allergies and sensitivities. 
Does this mean you should be worried if you treat chlorine-treated water? No. The levels of THMs in drinking water are regulated by the EPA and are kept below levels that have been shown to cause harm.
How can you tell if your tap water has too much chlorine?
If you're worried that your drinking water may have excess chlorine, here are the signs you should look for:
Strong odor:

Chlorine has a distinct, strong odor that can be detected at low levels. If your tap water smells strongly of chlorine, it may indicate that the chlorine level is too high.
Unpleasant taste:

While some level of chlorine taste in tap water is normal and expected, a strong or unpleasant taste may indicate that the chlorine level is too high.
Skin and eye irritation:

High levels of chlorine in tap water can cause skin and eye irritation, as well as respiratory problems for some people. If you experience any of these symptoms after showering or bathing, it may be a sign that the chlorine level is too high.
Discoloration:

In rare cases, high levels of chlorine in tap water can cause discoloration of clothing or other items that come into contact with the water.
If you suspect that the chlorine level in your tap water is too high, you can contact your local water utility to request information on the chlorine levels in your water supply.
You can also purchase a home water testing kit to test the chlorine level yourself. If the level is found to be above the recommended range, you can consider installing a water filtration system that is specifically designed to remove chlorine.
How do at-home filters remove excess chlorine?
Home water filters can remove chlorine from tap water through a process called activated carbon filtration. Activated carbon attracts and absorbs a wide range of contaminants, including chlorine, pesticides, and volatile organic compounds (VOCs).
When tap water passes through an activated carbon filter, the chlorine is attracted to the surface of the carbon and is trapped within its porous structure. This process, known as adsorption, removes the chlorine from the water and leaves it cleaner and safer to drink.
Activated carbon filters come in a variety of forms, including faucet-mounted filters, countertop filters, under-sink filters, and whole-house filters. The effectiveness of the filter depends on the quality and design of the filter, as well as the level of chlorine in the water.
To keep the carbon filter working effectively, you must replace it frequently —the frequency will depend on how often you use your filter.
Can at-home filters remove chlorine by-products?
Although carbon filters do a good job removing chlorine from tap water, it's not as effective as getting rid of its by-product chloramine.
But first, what is chloramine?
Chloramine is a disinfecting agent added to water — it's made of chlorine and ammonia. But unlike chlorine, chloramine isn't easy to detect because it doesn't have a distinctive odor or taste.
While chloramine is safe to drink, this compound can react with certain types of plumbing materials, such as lead pipes, and may cause the leaching of lead into tap water.
Standard activated carbon filters don't filter chloramine effectively. So, you will need to purchase a reverse osmosis water filter.
Removing chloramine with a reverse osmosis water filter?
To remove chloramine, the RO system has several stages of filtration. First, there's a sediment filter that removes larger particles like sand and rust from the water. Then, there's an activated carbon filter that removes organic compounds, chlorine, and chloramine. The carbon filter is specially treated to remove chloramine.
The most important stage is the membrane. This is a thin layer that separates pure water from impurities. The membrane acts like a strainer that removes up to 99% of the remaining impurities, including chloramine.
Does bottled water have more chlorine than tap water?
Bottled water is not necessarily free from chlorine, as it may also be disinfected with chlorine during the water treatment process. 
The U.S. Food and Drug Administration (FDA) regulates the quality of bottled water sold in the United States and requires that it meet the same strict standards for public health protection as tap water. This includes setting limits for disinfectants such as chlorine and chloramine, which are used to treat water and eliminate harmful pathogens. 
We must also mention that the quality of bottled water can vary depending on the source and the type of treatment it undergoes. Some types of bottled water, such as spring water or mineral water, may not be treated with chlorine at all, while others may contain higher levels of chlorine if they are sourced from a location with high levels of organic matter.
What happens if you ingest pool water?
While we're on the topic of chlorine, we have to set the record straight. If you get a little bit of pool water in your mouth while enjoying a swim, don't worry. Your body can handle small amounts of chlorinated pool water without any issues. But drinking chlorinated pool water is a different story.
If you swallow a larger amount of pool water, or if the water is contaminated with bacteria or other harmful substances, you may experience some symptoms. These can include: Nausea or vomiting, diarrhea, stomach cramps, etc. 
We know, mistakes happen, and if you accidentally swallow chlorinated pool water, rinse your mouth out with fresh water and avoid drinking any more pool water. If you experience any symptoms such as vomiting or diarrhea after swallowing pool water, seek medical attention immediately.
What if you boil pool water, does that make it safe?
Boiling pool water can help remove some contaminants, including bacteria and viruses that may be present in the water. However, boiling pool water will not remove or reduce the chlorine content in the water. 
To Sum Up
Your local water company adds chlorine to your drinking water to make it safer. While the normal amounts aren't harmful, chlorine can cause issues for some people. If you find that there's too much chlorine in your tap water, you can purchase filters. 
iopool store
Shop the essentials