Above-ground Pool Covers: Which One Is For You?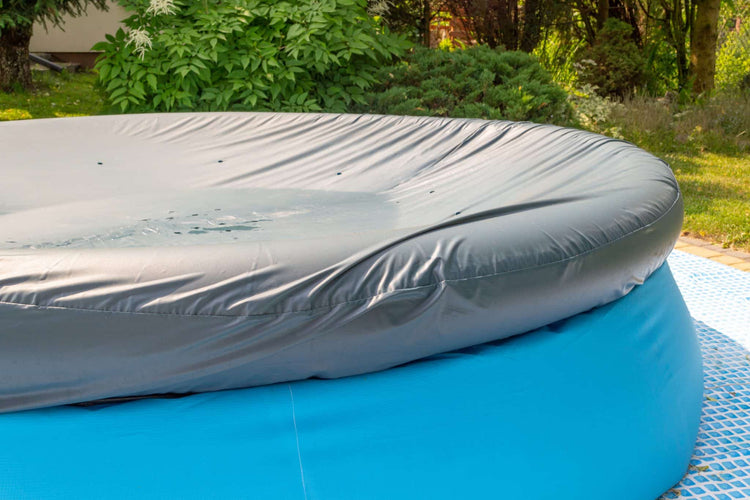 Above-ground pool covers have many purposes. They can keep your pool protected from debris in the winter and they help add a layer of safety and protection for your family — including the furry ones. Some pool covers can even heat your water using energy from the sun.
There are several types of above-ground pool covers. Discover which cover is the best for your swimming pool with our article.
Winter Covers
A winter cover goes over your pool and helps protect it from damage during the colder months. Here's more of what a winter cover can do for your pool.
Helps Keep Debris Out of Your Pool
A winter cover keeps out debris like leaves, twigs, and bugs. It can also prevent additional water from snowmelt. 
Stops Algae Growth
A winter pool cover will act as a barrier to algae. It blocks rainwater, sunlight, bacteria — all contributing factors to algae growth.
Prevents Water Loss
The water evaporation could damage your above-ground pool. Not only that, but it can pose a fire hazard. If there isn't enough water in your pool, the pump motor could burn out and catch fire. A pool cover helps slow water loss.
Which material? 
Winter pool covers come in various materials, with the most common being vinyl, mesh, and tarp. 
Tarp covers should be avoided because they are not as durable as mesh and vinyl. And they usually only last one to three years.
Mesh provides more protection from debris than tarp covers, and they're more affordable than vinyl ones. However, the mesh material will allow sunlight to pass through and reach your pool — which is a recipe for algae. 
Although vinyl covers are a little more expensive than the options previously mentioned, they're worth it. They are sturdier, and they keep out debris and sunlight. The only drawback is that your vinyl cover may require a pump to remove water that accumulates on the top.
You also have the option of a hybrid pool cover made of both vinyl and mesh. For example, a hybrid pool cover is a solid vinyl with mesh in the middle. This design prevents sunlight from getting in and doesn't require a pump.
Safety Covers
Safety covers protect your pool at any time of the year — not just during the winter. They're ideal for when you go on vacation or away from your home for an extended period.
A safety pool cover can also do the following:
Help Keep Debris and Sunlight Out
Safety covers can protect from the same debris as a winter cover. It can also withstand harsh weather conditions — wind, heavy rainfall, ice. 
Prevent Children and Pets From Falling Into the Pool
Swimming pools can pose a severe hazard to small children and some animals. A properly installed safety cover will prevent accidents.
Provides Some Legal Protection
If a small child or pet wanders into your pool without a safety cover, you may be liable. However, having a safety cover in place will prevent you from facing legal repercussions. 
Which material? 
Like winter pool covers, safety covers are made with mesh and vinyl material. 
A mesh safety cover is lighter weight than a vinyl one — making installation easier. Also, the mesh material allows sunlight to seep in, which keeps the water warm in the summer.
Vinyl covers are durable and protect against debris. However, water may accumulate on the top.
Can you use a safety cover in the winter?
Yes! You can use a safety cover in winter. A safety cover provides the same level of protection against debris. But the only difference is that it adds another element of safety that is critical if there are any small children or pets around your pool.
Solar Covers
A solar cover harnesses energy from the sun and heats your pool water. Here are a few more benefits of a solar pool cover.
Increases Water Temperature
The primary advantage of a solar pool cover is that it helps heat up your pool. A solar pool cover captures the heat in the bubbles and then transfers that heat to your water. These pool covers can raise your water temperature by 46 Farenheit degrees.
Saves Energy
A solar pool cover is an eco-friendly option. It reduces your need to use electric or gas pool heaters and make you save energy.
Saves Water
Solar pool covers prevent water evaporation, so you won't have to replace as much water.
Can you use a solar pool cover as a safety cover?
A solar pool cover is made of a plastic resin material, so it doesn't function as a safety cover. In addition, they aren't built for harsh weather conditions.
Accessories
Now that we've gone over the pool covers, let's talk about the accessories you need to protect your pool like a pro.
Chlorine
Chlorine helps destroy harmful bacteria and keeps algae at bay. Instead of a floating dispenser, try a chlorine pill that releases chlorine throughout the winter.
Soda Ash and Baking Soda
These two compounds help to balance the alkalinity and pH of your pool water. 
Air Pillow
An air pillow helps to reduce the pressure on your pool cover caused by snowmelt and rainwater.
"And voila"
Need more information? You may also be interested in this article.
Our blog is full of pool-related articles of all kinds! Our shop is also here!
iopool store
Shop the essentials