Intex Above-Ground Pool: 11 Tips To Keep It impeccable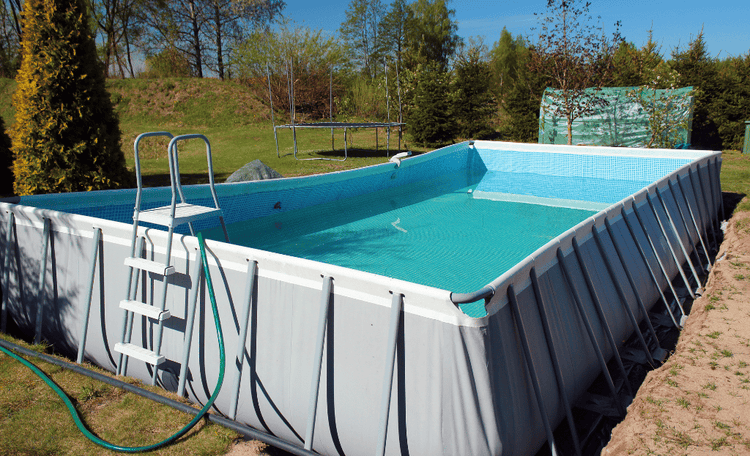 You've just bought an Intex Above-Ground Pool? Swimming pools are a glamorous addition to your backyard space. But wanna know what's not so glamorous? Pool maintenance. 
Your swimming pool needs regular upkeep. Between balancing the pool's water chemistry and clearing out your filters, caring for your above-ground pool can get a little overwhelming — but we're here to help.
Today, we take a dive into how you can keep your swimming pool in tip-top shape.
1. Use Tap Water to Fill Your Pool
Most people assume that they have to order pool water, but that's not the only option you have for filling your pool. You can fill your pool with plain ol' tap water. 
Just attach a garden hose to your outdoor tap, drop the other end in the pool, and voila! Now you have a pool full of clean water.
2. Upgrade Your Filtration System
The filter included with your Intex above-ground pool isn't large enough to remove contaminants. So, you have to upgrade to a more efficient filtration system. 
For Intex pools of less than 15,000 gallons, we recommend the Game Sand Pro 50 Filter System. It's a durable option than the Intex filter-pump system, and it's cost-efficient.
Here are the benefits of upgrading to a bigger and better filtration system:
Better suction and circulation keep the pool cleaner;
A large pump makes it easier to vacuum your pool;
Prevents poor water conditions.
3. Vacuum Often
Your filtration system can't remove everything. That's why it's important to vacuum at least once a week. Vacuuming keeps your pool water sparkling, prevents algae growth, and allows chemicals like chlorine to work better.
There are a few pool vacuum options on the market, but robotic vacuums are made for above-ground pools. This leads us to our next point.
4. Get a Robotic Pool Cleaner
Want a more simplified way to clean your pool? Get a robot.
Just like those home robot vacuums you're probably familiar with, a robotic pool cleaner works in the same way. 
An automatic pool cleaner has an electric motor that creates suction to remove dirt and debris from your pool. When debris is sucked up, it's stored in a separate filter bag attached to the cleaner.
Robotic pool cleaners also save money and energy. For one, they require a low voltage to run — so they don't use up a ton of energy. Compared to other pool cleaning equipment, a robotic cleaner could cut down as much as 82% on your energy bills.
Our rechargeable cordless swimming pool cleaner has a 2-liter waste capacity and moves freely around your pool's floor. And you don't even need tools to lift it out of the water.
5. Get a Monitoring System
Chemical imbalances in your pool can result in algae, scaling, cloudiness, and skin irritation. With a smart pool monitoring system, you can detect imbalances immediately and take action. 
A smart pool monitoring system allows you can check and manage the following from your mobile device:
Chlorine levels: Too much chlorine causes skin irritation, and too little chlorine doesn't sanitize your pool. Keeping track of chlorine volume helps you maintain proper levels in your pool.
Calcium hardness: Calcium is essential to pool health, but too much or too little can result in scaling and corrosion. You can keep track of calcium with a smart monitoring system.
PH levels: An imbalanced pH can pose problems— damage equipment, low water quality, skin irritation. A pool monitoring system ensures that your pool water's pH is balanced. 
Our EcO Monitoring system allows you to manage these properties and more. Simply place EcO in your pool or skimmer and monitor your pool's water from your phone.
 The mobile app lets you know the health of the water and if it's safe to swim or not. You'll even get reminders of when to purchase more pool cleaning supplies.
6. Use High-Quality Chemicals
Maintaining your pool can get expensive, and you may be tempted to cut corners and purchase cheap pool chemicals. However, poor quality chemicals pose some serious issues.
Bargain pool chemicals throw off the balance of your pool's water which causes damage to the pool liner and other system components. And the wrong quantities could irritate skin and damage hair.
In addition, many pool chemicals sold at your local store are full of fillers and various formulations that don't perform as well as full-strength versions. As a result, you're left with trying to balance your pool's water chemistry.
So, instead of heading to a local big box store for pool chemicals, purchase from a specialized merchant. Our selection of professional-grade pool chemicals is scientifically validated and helps protect the environment and your health.
Getting high-quality chemicals not only saves you a headache but it extends your pool's lifespan.
7. Invest in a Pool Cover
A pool cover is designed to keep your swimming pool clean and cut down on energy costs and evaporation. It's one of the things that you're going to have to buy sooner or later. 
Getting a pool makes maintaining your pool easier. Here's how:
Keeps out debris: Imagine your pool without a cover. Everything from dead insects, twigs, and leaves could make its way into your pool. Next, you'll spend your afternoon trying to fish out objects with a net. However, a cover prevents unsightly things from getting into your pool.
Reduces chemical use: Too many chemicals could cause respiratory irritation and allergies. Using a pool cover could cut down your pool's chemical consumption by 35 to 60 percent.
Retains heat: Covering a heated swimming pool at night helps keep it warm. This means you can enjoy a dip in the pool on a chilly day. Not to mention, you'll use less energy heating your pool, which saves you money on your electric bill.
Which cover should you get? You have a few options, but we recommend SunnyTent. 
A SunnyTent is a dome that goes over your pool. It keeps out debris and bacteria, and it could warm your water up to more than 30 degrees. 
8. Use Cleaning Accessories
There are so many pool cleaning accessories out there. But which ones do you need to keep your pool clean and pristine? 
Here are a few cleaning supplies that make maintaining your pool less grueling:
Skimmer Net: There will be an occasional tree branch or dog toy that makes its way into your pool — that's where a skimmer net comes in. A skimmer net is a tool that helps you fish out large objects.
Vacuum Brush: Have trouble getting to those hard-to-reach areas? Get a vacuum brush. This tool helps you clean areas of your pool that a standard vacuum head can't.
Floating Chlorinator: A floating chlorinator floats around your pool and sanitizes the pool by adding chlorine. It's an effortless way to keep your pool chlorinated.
Surface Skimmer: A surface skimmer draws water in from the surface of your pool — eliminating pollutants, sunscreen, body oils, and hair. The suction power is so discreet, you won't even notice it's cleaning.
9. Regularly Clean and Replace the Filter
Your pool filter has the arduous task of capturing debris that can pollute your pool. So, it should be cleaned at least once a week. Start by removing the filter and hosing down the cartridge.
It's also essential to replace the filter cartridge when it's time. We recommend getting a new filter every three to five years. But to determine when it's time to replace your filter, consider how long you've had it and its current performance.
10. Do Weekly Shock Treatments
A shock treatment involves a powdered form of chlorine that kills algae, bacteria, and other pollutants. Weekly shock treatments help the chlorine work its sanitizing magic.
The best time to do a shock treatment is at the end of the day — preferably when the sun has gone down. This is because the sun will cause the chlorine to evaporate out of your pool. 
Also, shocking brings the chlorine to a level that may irritate skin and eyes, so make sure no one is in the pool at the time of the treatment.
11.Run Your Pools Pump at Least Eight Hours a Day
Your pool's pump keeps water circulating, which prevents algae growth. Also, moving water directs debris into the filters and keeps your pool water clear and clean. 
So, we recommend running your pool pump for at least eight hours a day. Your pump should push your entire pool in gallons in these eight hours.
iopool store
Shop the essentials